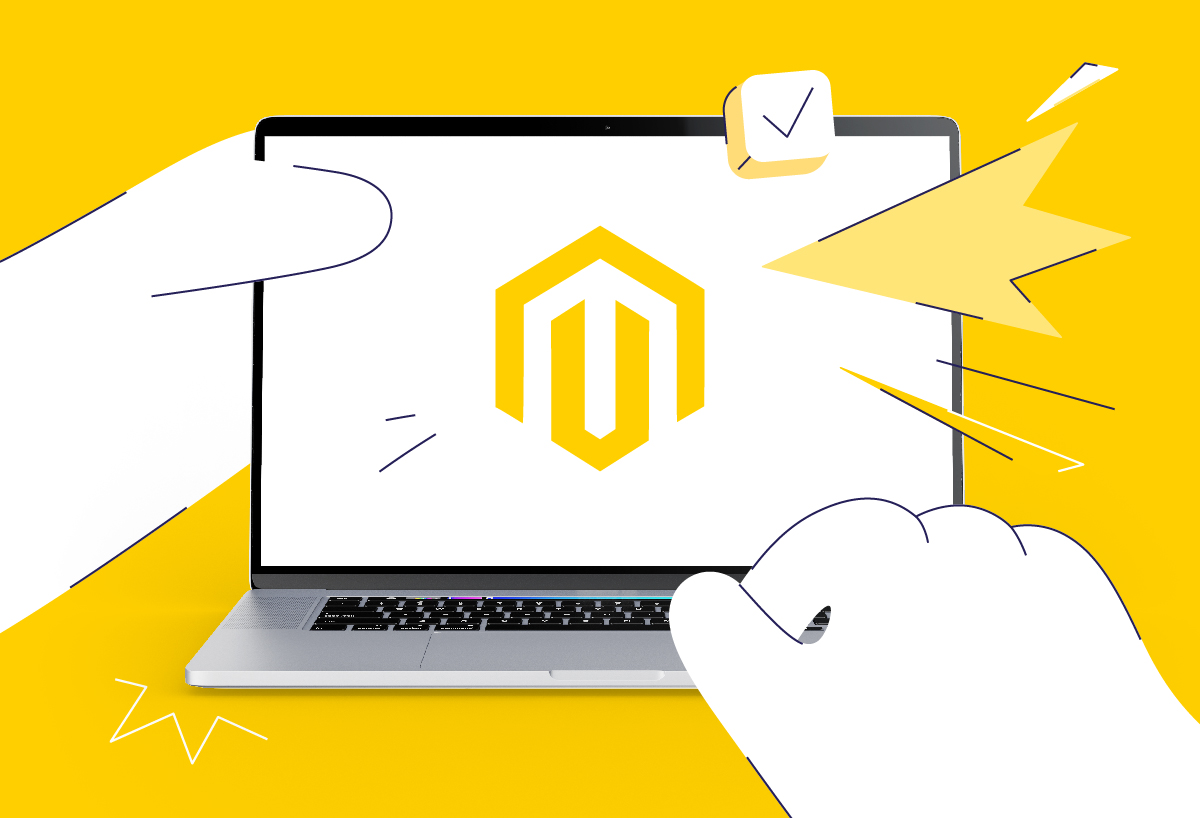 Does the popularity of Magento mean that it will suit your business? Yes, the platform's portfolio has companies such as Ford, Coca-Cola, and Jaguar Land Rover. Still, is it good enough for your web store? From this article, you will know about reasons to choose Magento and its pros and cons for your business.
Do you want to know if this platform can cover your website needs? Contact us to get a personalized consultation with the experts.
Why Choose Magento For Your Web Store?
According to the statistics, Magento stores increased by 15% in 2022, making over 267,000 websites worldwide. What distinguishes it from other analogs is the professional features that enable paid and free customizations for your webstore. This system also has an intuitive admin interface, so you can easily manage your sales.
On the other hand, this platform requires some additional effort from you. The point is that Magento has a complex architecture, and for customized extensions you have to hire technically skilled developers. Also, the hosting makes this platform pricey, but with an experienced Magento agency you won't notice these challenges.
The Main Benefits of Magento for Your Business
Enhanced security
Magento is a safe system that allows you and your customers to freely use its functions without worrying about data. For double security, the platform has CAPTCHA and PCI Data Security.
Advanced customization
​​The platform adapts to business needs with templates and Magento customization services. You can also choose five default payment methods, PayPal and Authorize.net, the design of catalogs, and other features.
Additional extensions support
There are more than 4,100 extensions available on the market, paid and open source. Thanks to them, you can expand the capabilities of your Magento webstore, provide a better user experience, accept global payments or create unique designs.
Integrated with other solutions
You can implement any system such as ERP, CRM, PIM, Social networks, or any analytics tool. With integrated third-party services, data moving will be automated, and your company's productivity will increase.
Supported by Adobe
Adobe provides a service for the paid Adobe Commerce version. You receive the package of options:
Development Server
Application and Host System Monitoring
Off-Site Code Repository
24/7 Monitoring
Staging Server
Get updates, extensions, and other capabilities directly from Adobe. They will help with any issues, from integrations to bug resolution.
Big and proactive community
The Magento community is friendly and open to support and gives answers to your questions. You can also share your experience, find ready-to-go solutions, or get more inspiration. So join the network to start discussing any topics via the forums.
Multi-Store /Multi languages features
Reach a global audience by implementing several languages in your webstore. With Magento eCommerce development service, you can also get a multi-store feature. It allows for the creation of several domains with one installation. You can do it directly using the Magento settings.
B2B features
It's an integrated module for personalizing your target audience's prices, catalogs, promotions, and ads. With this B2B feature, you are able to manage accounts and catalogs and provide advanced analytics, and increase the number of customers.
To Sum Up
The Magento system offers a comprehensive solution that includes tools for measuring metrics, logistics, better user experience, and much more. Do you want to ensure this platform meets your requests and you won't spend budget on non-working project? Consider contacting the Alva team for a consultation to receive the answer