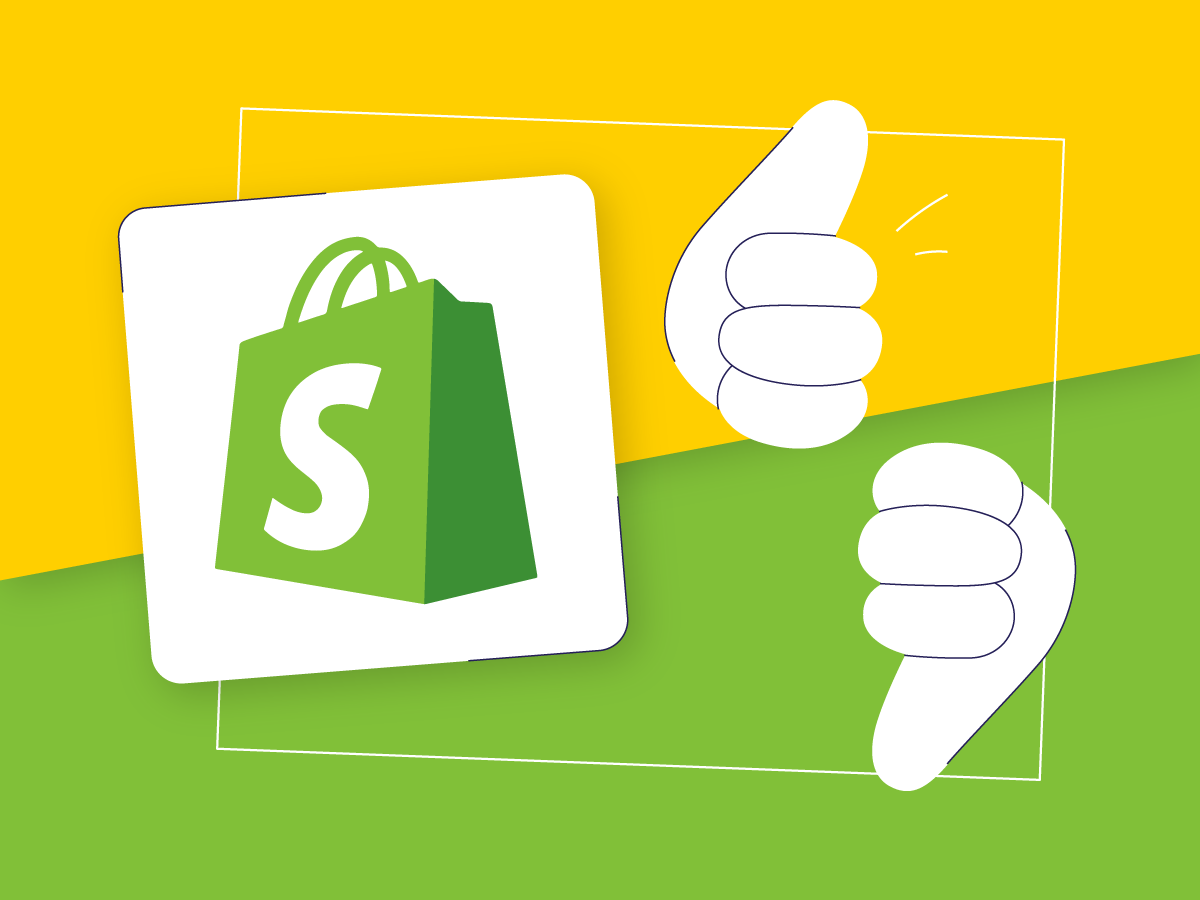 Shopify is like the most popular guy in school. He's very cool but also has secrets that you should know about before you make friends with him. This review is a detailed breakdown of the pros and cons of Shopify, with facts and figures. You will find out if this is the right platform for your business, how convenient the functionality is, and which payments may surprise you.
Find out how your business can benefit from the Shopify store
What is Shopify
Shopify is an all-in-one ecommerce platform. You can create an online store without programming skills (although there are nuances) and get all the tools to develop and promote it.
By default, you get hosting, analytics, CRM, payment integrations, etc. If you are missing features, you can simply go to the Shopify App Store and choose what you need.
Generally speaking, this platform is respected and popular:
It powers more than 4.1 million of active websites

Its market share reaches 10%

Reputable media such as Forbes Advisor include it in their list of the best ecommerce platforms
The platform covers most business tasks, but it is not suitable for all types of businesses and has certain limitations. Let's start this Shopify review with the good stuff.
Shopify pros
1. Low startup costs
To use the store, you need to buy a subscription. You pay for the software itself, hosting (your store is in the cloud, on Shopify's servers), and security (such as payment security).
There are three main pricing plans:
Basic for individuals and small businesses — $32 per month (or $24 if paying annually)

Shopify for small businesses — $92 per month ($69 on an annual subscription)

Advanced for medium and large businesses — $399 per month ($299 when paying annually)
One of its closest competitors, Squarespace, has a lower entry price of $23 per month for the basic plan. But its functionality is much more limited. You won't be able to customize your store with CSS and Javascript, you won't get integrated ecommerce, and the ability to recover abandoned carts, etc.
Instead, Shopify can be used almost for free for a quarter. The trial lasts 3 days, and the next 3 months cost only $1 per month in any of the three plans.
2. Ability to extend store functionality using apps
Shopify's philosophy is that the platform provides maximum basic functionality for creating and managing a store. If something is missing, you can go to the store and select additional functionality.
Thus, the pros and cons for Shopify can be amplified or minimized with the help of apps. There are programs for marketing, store management, statistics, accounting, etc.
The Shopify App Store contains more than 8,000 paid and free apps, and few other platforms offer as much choice. For example, Wix has about 250 apps, and Bigcommerce has about 1,000.
3. POS system availability for offline sales
If you sell both online and offline, you definitely need a POS system. This software allows you to accept payments, issue receipts, register products, control inventory, and collect sales analytics. It also allows you to synchronize information between your offline and online stores instantly.
Normally, you would have to use third-party software. Instead, Shopify offers its own solution and even hardware — POS Go. It is like a smartphone with a built-in barcode scanner and card reader. It connects to your Shopify account via Wi-Fi and simplifies sales.
Basic POS features are included in every Shopify plan. This will be enough if you only sell offline occasionally, such as at trade shows. And the $79/month POS Pro plan lets you manage employees, customers, and inventory, set up multichannel sales, and get detailed reports.
4. Powerful SEO tools
When it comes to SEO, Shopify has a lot to be proud of. Some optimizations are automated. For example, canonical tags, sitemap.xml, and robots.txt files, title tags with your store name, etc. are generated without your involvement.
Other built-in features allow you to optimize your site manually. For example, you can edit title tags, meta descriptions, and URLs for blog posts, web pages, products, and collections. You can also edit alternative text for images.
Every Shopify store also comes with a free Secure Sockets Layer (SSL) certificate. This is a secure connection that ensures user information remains confidential. Look at the lock icon in the address bar left to the site name. This is it. Google takes this very seriously when ranking sites in search results.
5. Shopify Shipping availability
To simplify the shipping process, Shopify has integrated with popular carriers at special rates. Shipping savings vary by rate plan and carrier but can be as much as 88%.
Right in your account, you can calculate the discounted shipping cost, and create and print a shipping label. No third-party programs, no interaction with the carrier, etc.
In addition, there is an option for free insurance if you are using a Shopify plan, Advanced, or Plus plan and have activated Shopify payments. Each package is automatically insured against loss, theft, or damage for $200 in this case. Additionally, you can purchase up to $5,000 of insurance.
Shipping and delivery are both pros and cons to Shopify. On the one hand, Shopify Shipping is currently available only in the United States, Canada, the United Kingdom, France, Italy, and Spain. On the other hand, the platform promises to expand geographically.
6. Comprehensive ecommerce features and tools
You get what you pay extra for on other ecommerce platforms for free on Shopify. Here are just a few examples.
Sending emails. Basic, Shopify, Advanced, and Plus plan owners can send 10,000 emails per month for free. Each additional 1000 emails cost $1. After reaching a certain limit, the price per 1000 emails is reduced. After 300,000 emails — $0.65 per 1000. After 750,000 emails — $0.55 per 1000.

Abandoned cart recovery. This is a feature for when a customer has almost completed a purchase but didn't pay at the last minute. You can manually or automatically send them an email reminder. Shopify only sends automatic reminders after 1, 6, 10, or 24 hours because these notifications are the most effective.

Analytics. Shopify provides powerful reports even in the most basic plans. Plus, when you upgrade your subscription level, you get access to advanced reports for the time you were on a lower subscription level.
7. Selling large digital files
Most ecommerce platforms allow you to sell digital products. But not all of them allow you to sell really large files. Again, Shopify fits the bill.
It allows you to upload files up to 5GB, while Bigcommerce, for example, has a 512MB limit, and Squarespace has a 300MB limit.
Create a unique store tailored to your business
Learn More
Shopify cons
1. A relatively small selection of themes
You can create a store using one of 12 free or 134 paid themes. The price of the paid ones ranges from $170 to $380.
Instead, Wix offers 800+ templates, Bigcommerce — 250+, and Squarespace — 155.
On second thought, 150 themes is enough to make an informed decision, and not enough to cause confusion. Plus, you should consider the ability to apply different presets.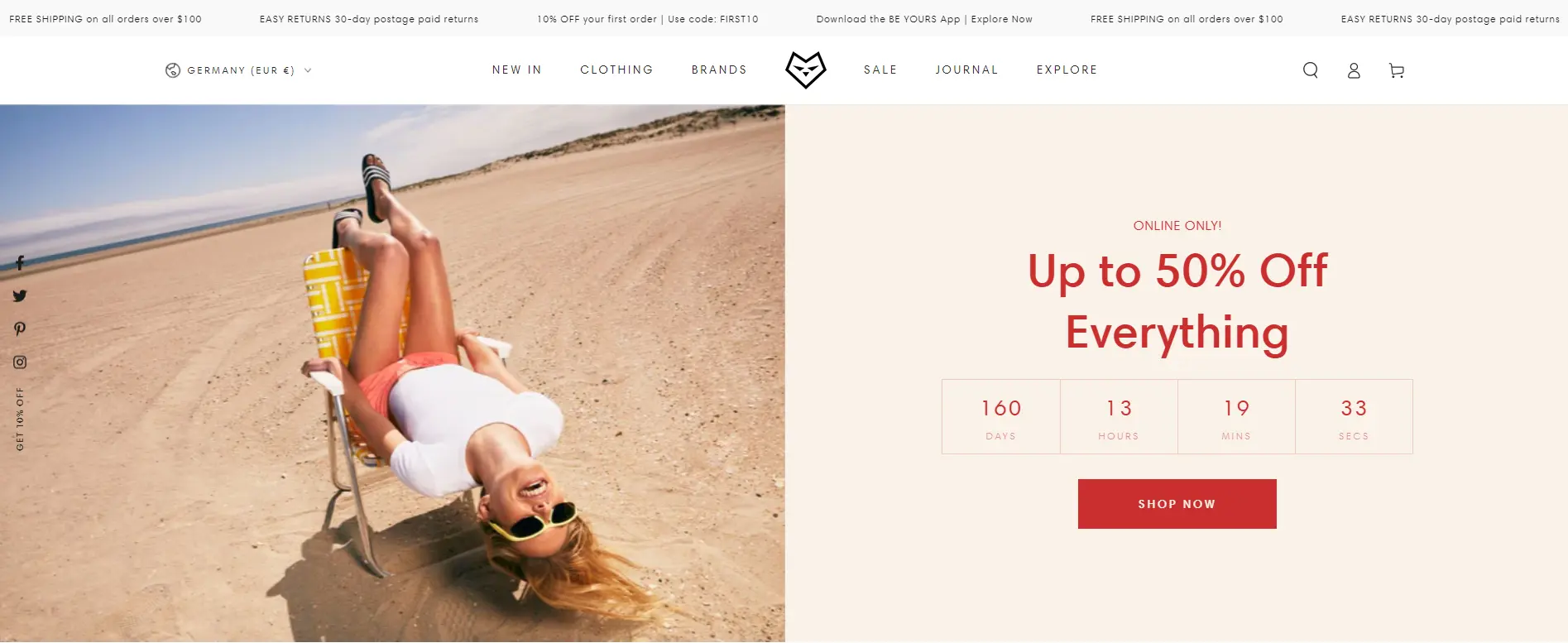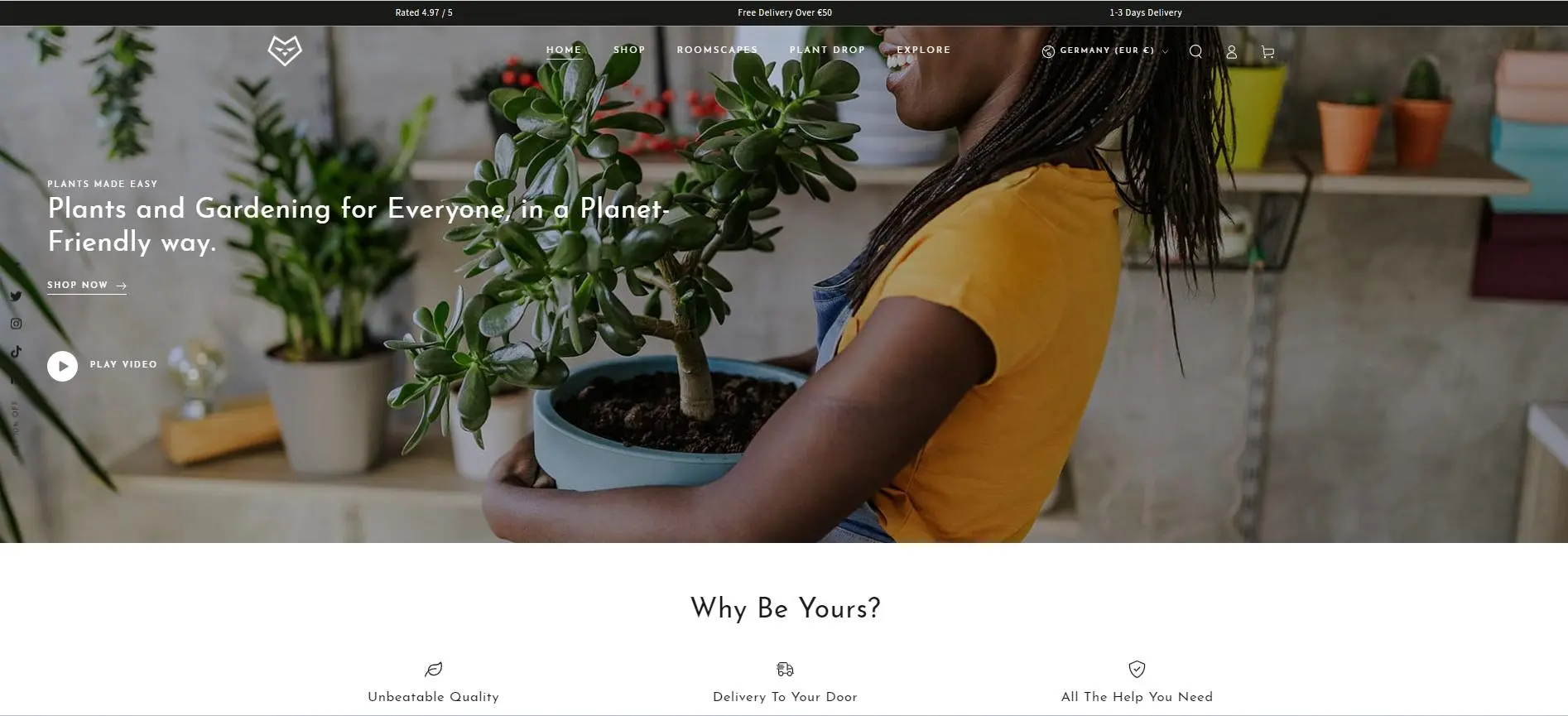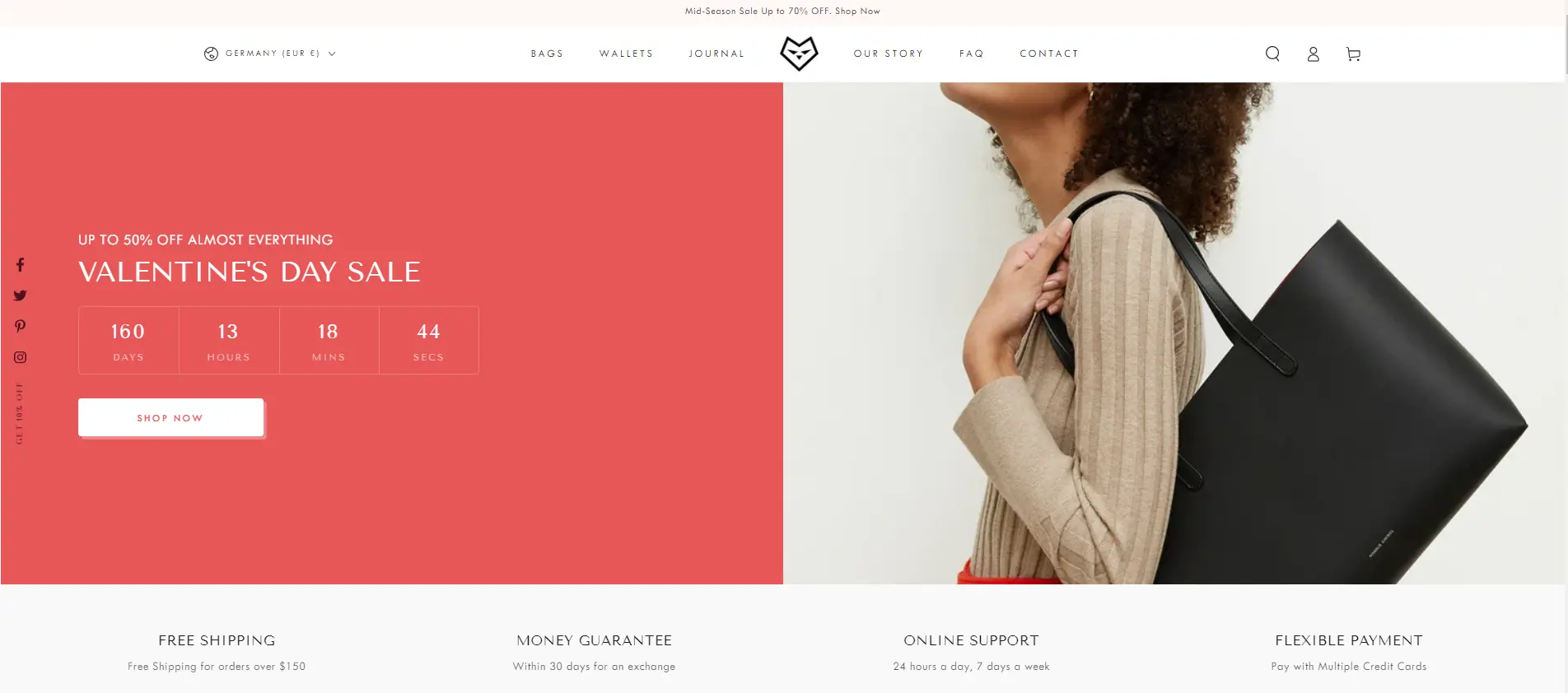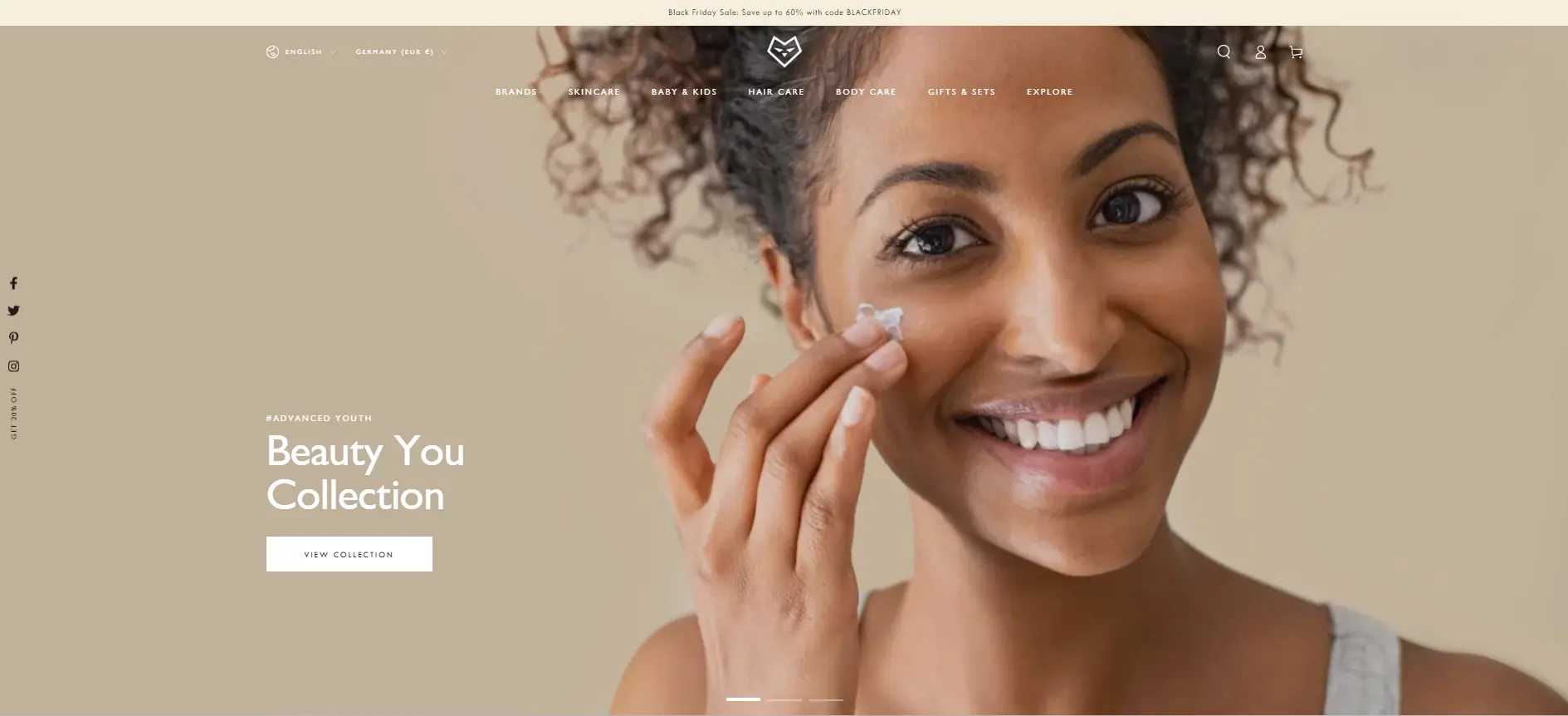 Scroll through. This is how the same template looks with different presets. They're included in the price. Source: Shopify Theme
In addition, Shopify themes typically include
EU translations (EN, FR, IT, DE, ES)

Store locator

Age verifier

Countdown timer

Color swatches
If no theme suits you, Shopify allows you to modify themes or create your own. The template language is CSS, HTML, and Liquid, so customization requires technical skills.
2. Transaction fees and payments
You will pay several types of fees and charges, and the final amount can be pretty high. Here are the typical costs:
Subscription — from $5 per month, depending on the plan

Apps — 87% of sellers use 6 apps on average. If there are paid ones, these are additional costs.

Currency conversion fee — 1.5%

Transaction fees for third-party payment providers — they depend on your plan
But in the end, you pay for convenience and security. What's more, if you are using Shopify Payments, there are no transaction fees, and this can be a significant saving for you.
3. Limited availability of Shopify Payments
Pros and cons of selling on Shopify include financial aspects. The only way to avoid paying transaction fees is to use Shopify Payments. The problem is that the service is currently only available in these countries:
Australia

Austria

Belgium

Canada

Czechia

Denmark

Finland

France

Germany

Hong Kong SAR

Ireland

Italy

Japan

Netherlands

New Zealand

Portugal

Romania

Singapore

Spain

Sweden

Switzerland

United Kingdom

United States
Although the list is long, sellers from other countries have to use the services of one of 100+ third-party payment providers. And pay a commission of 0.15% to 2% for each transaction.
But there is good news. Other platforms may be more expensive. For example, Wix always charges between 1.9% and 2.9% + a flat fee of about 30 cents. Squarespace's fees can be as high as 6%.
4. The limited list of industries
Buying Shopify store pros and cons include the fact that you can't sell everything on this platform. The ban on some products is fairly obvious, as their sale is illegal: for example, drugs, human parts, pornography, goods that violate intellectual property, etc. In addition, you may be prohibited from selling:
alcohol

tobacco

cannabis

gambling

animals

medical devices

weapons, etc.
These bans may apply if you want to use Shopify Payments or appear on the Shop app — a mobile app that lets customers find and buy products from brands on Shopify's platform. Otherwise, the rules may be more flexible.
For example, sellers from the US and Canada can sell cannabis and cannabis-based products. The former need an Attestation for the Sale of Hemp and Hemp-Derived Products, while the latter need to be licensed cannabis sellers and use Shopify Plus.
5. Complicated Shopify migration
Actually, it is not very complicated, it just requires some technical skills. Most platforms allow you to export product data as a CSV file. It can then be imported into Shopify relatively easily.
Another option is to use an import app from the Shopify App Store. You'll also need to use the API or a third-party program to import blog posts. Of course, you can copy everything manually, but are you sure you're up to it?
All in all, you may need help from our development team to migrate to Shopify.
How good is Shopify?
Today it is one of the most effective solutions for online stores. To summarize the pros and cons of using Shopify, we can say this: the benefits are more significant. The advantages include:
Low startup costs
Ability to extend store functionality using apps
POS system availability for offline sales
Powerful SEO tools
Shopify Shipping availability
Comprehensive ecommerce features and tools
Selling large digital files
However, Shopify is not perfect.
It has a relatively small selection of themes. But!

Many of them have different presets that significantly change the theme's look. Plus, each theme is designed specifically for an online store, while other platforms offer templates for other types of sites.

It has transaction fees and payments. But!

Each platform has commissions, sometimes higher than Shopify's.

The list of industries is limited. But!

Typically, other platforms do not offer fee-free transactions at all. But Shopify does, and the option is currently available in 23 countries.

Shopify migration may be complicated. But!

Typically, other platforms do not offer fee-free transactions at all. But Shopify does, and the option is currently available in 23 countries.
These all make Shopify one of the most convenient, profitable, complete, and easy solutions for building and managing an online store.
Request a store that increases your sales, has a great UI/UX, and is easy to manage.