UI/UX Audit Services for e-Commerce Businesses
Find out what your product's bottlenecks are keeping customers from buying. Get a gap elimination plan, increase conversions, and improve your business efficiency.
Check your website's e-commerce flow with our UI/UX audit.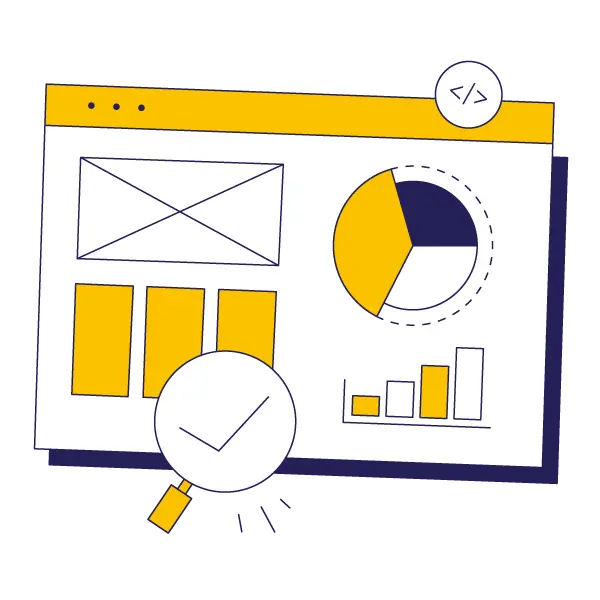 4 Signs That May Indicate a Poor User Experience
E-commerce businesses can face hundreds of challenges. But some signs point out that the problem should be rooted in UI/UX.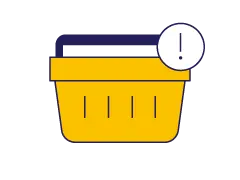 High cart abandonment
The average cart abandonment rate is 70%. Do you fall into this statistic? Higher rates may indicate a cumbersome checkout process, unexpected fees, security issues, or a lack of trust in the website.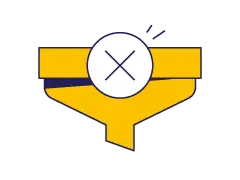 Low conversion rate
Typically, the e-commerce sector has an average conversion rate of 1.6%. Lower rates may state confusing navigation, unclear calls-to-action, or a complicated checkout process.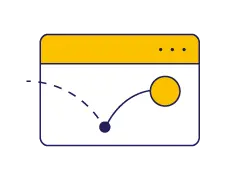 High bounce rate
Ideally, it should be between 26% and 40%. If you're approaching the upper limit, it's time to be wary. Slow loading time? A cluttered interface? Irrelevant content? The issue may be hiding in an unexpected place.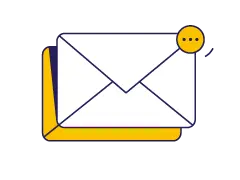 High customer support inquiries
If your support team is swamped with requests like "Where can I find information?", "Something doesn't work here", then UI/UX definitely needs to be improved.
A UI/UX audit reveals bottlenecks and helps improve the product's overall usability and effectiveness.
How Can User Experience Audit Service Improve Your Business Performance
3 out of 4
customers are likely to return to your website with a good mobile UX
94%
of users believe that easy navigation is the most useful feature of a website
What is UX Site Audit
To get your customers to do what you want them to do (like buying, subscribing, or booking), your website needs to be easy to use and help them find what they need without any problems.
The website UX audit aims to identify any usability issues that users may face. This includes difficulties with navigation, complex or confusing user flows, an inefficient process, and any other barriers that prevent users from working with the product smoothly. Identifying a problem is half the battle.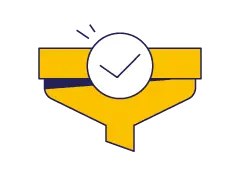 Increased Conversion Rates
Sometimes there's just one extra button or action between a customer and a purchase. The UX site audit helps to identify areas where you can optimize the user interface and experience to make it easier for the user to convert.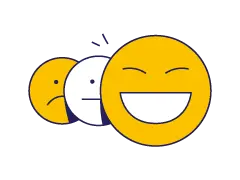 Improving the user experience
Your product should solve the customers' pains and problems, otherwise, they will leave.
An audit provides insights into your users' pain points, frustrations, and needs. This will allow you to make informed design decisions and implement smart changes.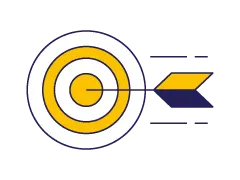 Alignment with business goals
Every element of design and functionality should contribute to the desired client's actions and conversions.
An audit helps optimize a product to increase sales, improve customer experience, or achieve other goals.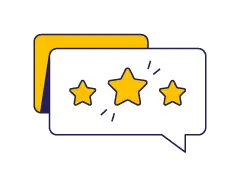 Increased Customer Loyalty
1 in 3 people are ready to stop interacting with a brand after one bad experience.
UX audit helps businesses create a customer-centered experience. You will understand how to build conditions for trust, loyalty, and long-term relationships with your customers.
By improving the user interface, you can create products that meet user needs, contribute to business goals, and ultimately achieve long-term success.
Check if you're losing customers due to minor UI and UX failures
Why choose Alva Commerce?
Alva Commerce was born out of a shared vision to use our extensive 20-year experience in IT and eCommerce projects on our own terms. During these years, we have been a part of numerous projects and corporate orders with a focus on company benefit over the global impact. We realized that the only way to drive change was by doing it ourselves, the right way.
Today, our team's primary focus is on client orientation, offering optimal solutions tailored to our customers' specific needs. We consider business requests to provide the most effective and relevant options. Throughout the years, we have built trusting partnerships with clients from all over the world. Our 25+ web development experts shared their experience and provided services for businesses from Sweden, Poland, the US, Canada, Turkey and more.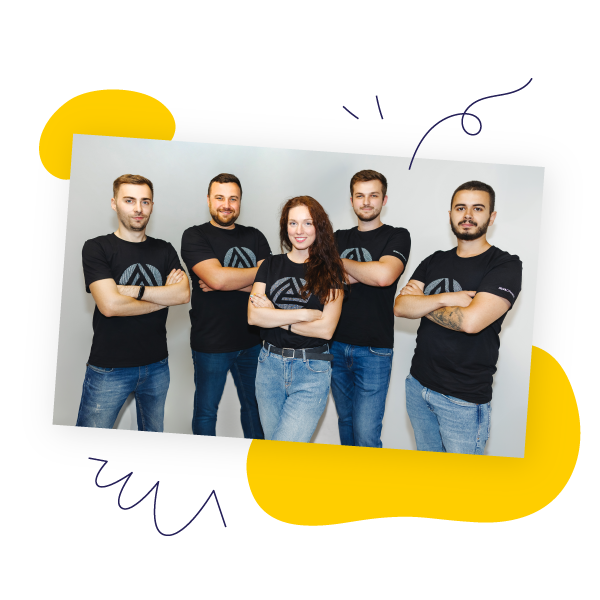 By cooperating with us, you will get:
Expert team
Professionals with 6+ years of IT engineering and eCommerce experience.
Reliable partner
Our expertise is confirmed by the status of Magento and Salesforce partners.
Full-cycle services
We offer solutions that fulfil all your needs. We've got you covered from A to Z.
Transparency
We enforce collaboration with our clients through transparent communication.
Do you want to know more about Alva's services? Book a free consultation now.
What is the Audit Process in the Website UX Audit Agency
A UX audit of a website takes an average of 2 weeks from the moment you order an audit to the moment you receive a report with suggestions for improvement. Here's what it looks like step by step.

Get in touch with us
First things first, let's get to know each other! Reach out to our team and we will promptly respond to your inquiry and schedule a consultation to discuss your project in more detail.

Setting goals
What does your business want to achieve? Common goals include improving conversions, reducing bounce rates, or improving the visitor experience. What's yours?

Analysis of website performance
You need to find out how productive your website is at the moment. We'll check metrics like bounce rate, time spent on the site, and conversion rates. At this stage, we will find out which areas need improvement.

Problem identification
This is where the UX auditor steps into the shoes of your user and digs into every corner of your website. We look for places where the user might get stuck or frustrated and, as a result, leave the site without completing the targeted action.

Design evaluation
No, it's not only about whether your website is beautiful. It's about whether the layout, fonts, and colors are on-brand and optimized for the user experience. We will check if the design is beneficial to your business.

Content evaluation
Texts and images on the website should meet the needs, pains, goals, and interests of potential customers. And ultimately they should lead to a targeted action. We'll check if this is true for your website.

Checking the functionality of the site
Navigation buttons, contact forms, and other interactive elements should work flawlessly. At this stage, we will find out if there is a need to improve or expand their functionality.

Improving the site
You will receive an audit report and suggestions for improving UX. You can order an optimization or redesign service to achieve the goal you set at the beginning of the audit process.
Boost Your Website Performance With UX TotalCheck by Alva
You are probably wondering what elements of the site we will be checking. Well, in short, almost all of them.
First, we'll check your website for any shortcomings and find potential for improvement. Then we will explain what to do with it all and give you an action plan. Here's what we'll analyze as part of a UX audit.
Website performance & functionality
Analysis of bounce rate, time spent on the site, and conversion rates. Analyzing how feedback forms and other interactive elements work.
User behavior
Searching for places on the site where customers get stuck or experience inconvenience while surfing the site.
Design effectiveness
Evaluating colors, fonts, block placement, and analyzing whether they meet user intentions and business objectives.
Content quality
Checking texts and images for relevance, interest, and potential to sell your products or services.
The term of execution — 2 weeks. Cost — $1500
Looking for experts to find and overcome your website's bottlenecks?
What Our Clients Say About Us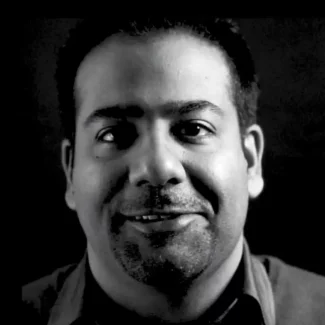 "They're proud of their work and they treat our project like it's their own."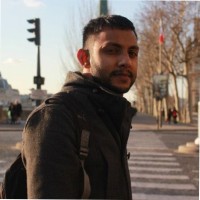 "They're one of the best commerce cloud B2C developers I've known."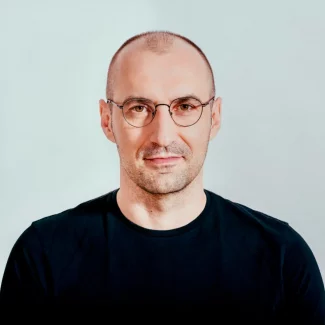 "I'm most impressed with Alva Commerce's superb communication and ability to understand our requirements and needs."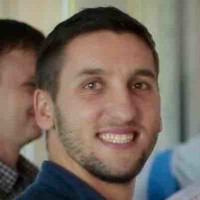 "Their focus on results is the most impressive."