Shopify to Magento 2 Migration: The Ultimate Checklist
Alva Commerce
eCommerce Services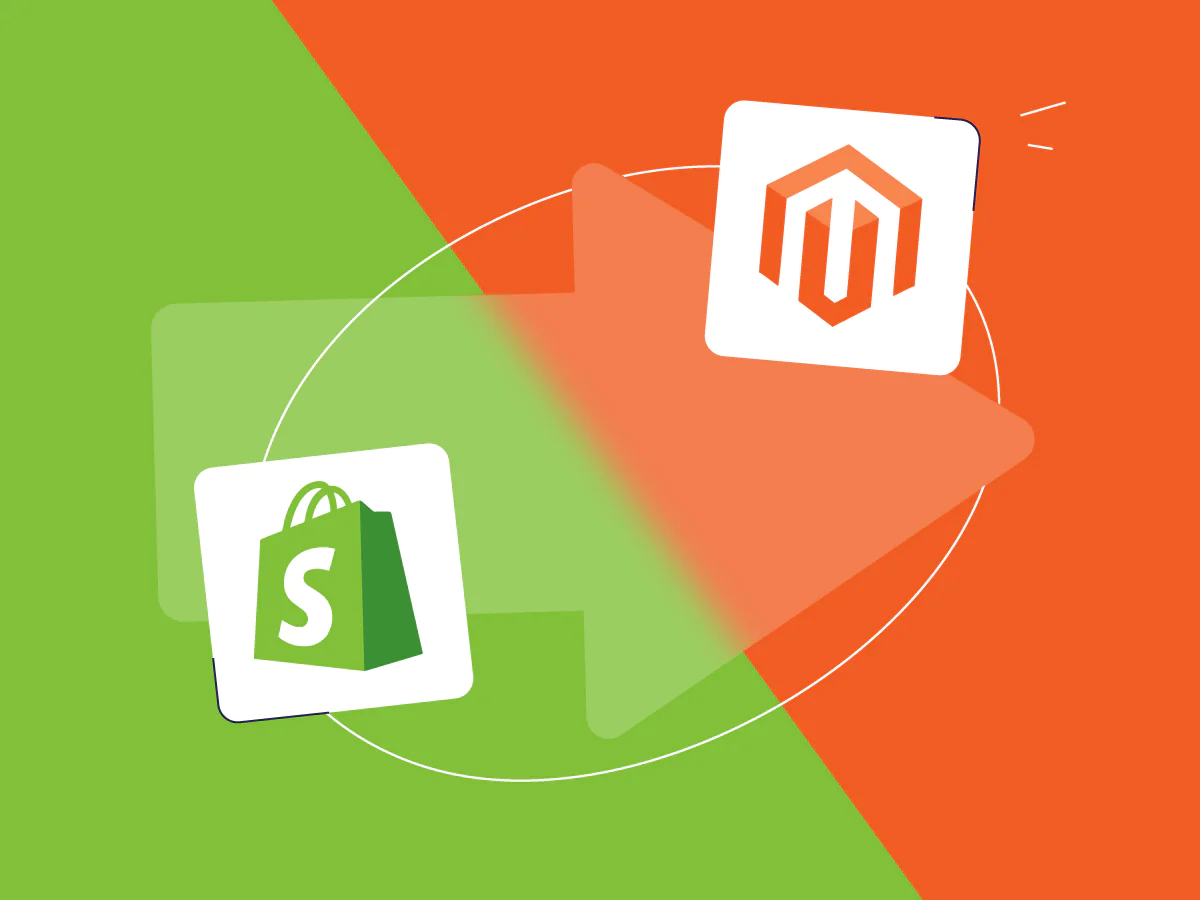 Are you thinking about migrating your Shopify store to Magento? You have made a wise decision. Magento is a powerful eCommerce platform that offers flexibility, scalability, and customizability. It's no wonder why businesses are leaning towards Magento nowadays. 
However, migration can be overwhelming for an entrepreneur. That's why we have created an ultimate checklist to help you through the process of Shopify to Magento migration. This guide covers everything from pre-migration steps to post-migration tips to optimize your new Magento store.
Curious about how migration to Magento 2 can boost your business?
Get a free consultation with our team, and let's chat about your unique needs.
Why migrate from Shopify to Magento
Shopify is a great starting point for new online businesses, known for its ease of use and quick setup. But as your business grows, you might crave more customization and scalability.
That's when Magento steps in as the powerhouse for growth. It offers incredible customization, scalability, and advanced features. This platform is perfect if you are ready to take your online presence to the next level.
Converting Shopify to Magento can significantly enhance your eCommerce business. By making the switch, you gain access to a more flexible and customizable platform that allows you to tailor your online store to your specific needs. Magento boasts advanced features for managing product data and customer information, helping you streamline your operations. 
Additionally, migrating to Magento can improve your store's SEO rankings and online visibility thanks to its robust optimization capabilities. Furthermore, with Magento, you'll have access to a larger app store, providing you with a myriad of options for customizing your store to attract and engage customers.
| | Magento 2 | Shopify |
| --- | --- | --- |
| Target audience | Suitable for any business size | Small and medium |
| Price range | Free, open-source | From $34/month for the very basic subscription |
| Control | Full | Hosted solution |
| Customization | Extensive | Limited |
| Themes in official marketplace (2023) | 10+ | 140+ |
| Themes at EvatoMarket (2023) | 340+ | 1800 |
| Extensions and apps availability | 3100+ | 8000+ |
For a detailed overview of these two platforms, see our Magento vs. WooCommerce vs. Shopify comparison article.
Benefits of using Magento over Shopify
Businesses are increasingly choosing Magento for its considerable benefits – robust features and flexibility. 
Tailored to your unique needs
The key Magento's advantage over Shopify is the availability of more advanced customization options. You can tailor it to cater to any business needs. 

Trouble-free scalability
Magento allows for better scalability, making it a suitable choice for businesses with larger product catalogs and order volumes. 

Higher flexibility
Unlike Shopify, Magento is an open-source platform, offering more flexibility and freedom. 

More affordable option
Migrating to Magento can lead to cost savings, as it is an open-source platform, while with Shopify you need to buy a monthly/yearly subscription.
Magento 2 Migration process
The Shopify to Magento 2 data migration involves several steps, each crucial to ensuring a smooth transition. Further in this article, we describe each step in more detail.
Step 1: Back up your data
First and foremost, it is crucial to back up your Shopify store data to ensure that no information is lost during the migration process. What you should back up:
Database with all essential information such as product details, customer data, and order history. 
Media folder with product images, icons, videos, and other media assets. 
Blog posts, product descriptions, and any other relevant website content. 
To learn more about exporting the data from your store, follow the instructions provided in this Shopify help article on data export.
Also, make a list of third-party integrations your website uses and what they are used for so that you can install them or similar apps in your Magento.
Step 2: Set up your Magento environment
Setting up your Magento environment and adapting your theme may be challenging if you have no technical background. Thus, you may resort to professional development services.
Select hosting
While Shopify includes hosting out-of-the-box, for Magento, you have to choose it on your own. Select a hosting provider that meets your store's needs in terms of speed and reliability. 
We recommend that you go for a specialized Magento 2 hosting adapted to eCommerce specifics. Such providers ensure the optimization necessary for your store's seamless operation during peak periods. Visit our blog article to learn more about the top 10 hosting providers for Magento.
Choose a theme
Select a Magento theme that aligns with your brand. The official Magento marketplace offers a wide range of options. The themes offered in Adobe Marketplace are released by trusted developers and are verified to be reliable and malware-free. If you need even more themes to choose from, check out the offers at EvatoMarket. 
When selecting a Magento theme, several key factors should be considered to ensure that it aligns well with your brand and business needs:
Responsiveness
The theme should be responsive, meaning it works seamlessly across various devices and screen sizes.

Customization options
Check if the theme allows for easy customization. You want to be able to tweak colors, fonts, and layout to match your brand.

Speed and performance
A good theme should be optimized for speed and performance, as this affects user experience and SEO rankings.

Support and updates
Opt for themes that offer regular updates and support from the developer.

User reviews and ratings
Check reviews and ratings from other users to gauge the theme's reliability and quality.
Most Magento themes offer a degree of customization, allowing you to modify UI design aspects like color schemes, fonts, and layout elements. However, the extent of customization varies from theme to theme. 
Some themes offer extensive options allowing you to overhaul the design significantly, while others may be more rigid in their design structure. It's always beneficial to check the theme's documentation. Alternatively, you can consult a Magento developer to understand the customization capabilities before making a decision.
Hyvä theme for Magento
One of the most popular themes for Magento 2 is Hyvä. This theme stands out as a premier frontend option for Magento. It encompasses a comprehensive toolkit, a range of compatible extensions, and a supportive community backing it. 
Hyvä is renowned for delivering exceptional performance and user experience. It offers these benefits without the complexities and extra expenses associated with a Progressive Web App (PWA).
Step 3: Customize the functionality
Customizing the functionality of your Magento store during migration from Shopify is a pivotal step. Here's how to make the most of it:
Evaluate current integrations
Start by reviewing the integrations and extensions you use on Shopify. Assess which ones are critical for your business operations and whether they have equivalents or better alternatives in Magento's ecosystem.

Embrace new apps
Magento offers a wide range of new integrations. Look for tools that can enhance your store's functionality. For instance, consider AI-powered tools for personalized customer experiences or advanced search capabilities. These integrations can significantly improve user engagement and conversion rates.

Testing for compatibility and performance
Before fully integrating an extension into your Magento store, conduct thorough testing. Ensure that each extension works harmoniously with your store's setup and doesn't hinder performance.

Seek custom development solutions
If you can't find a suitable integration in Magento's library, consider custom development. Custom solutions can be tailored to fit unique business needs and offer more control over the functionality.
Alva Commerce provides advanced Magento development services. Since this platform is highly flexible and customizable, we can deliver a solution to meet any business requirements. For an example of a complex Magento development, consider our case study on implementing a B2B collaboration system for CockPit 3D.
Considering a move from Shopify to Magento?
Click below to learn more about Magento 2 migration services at Alva Commerce.
Explore our services
Step 4: Export data from Shopify
To kickstart your migration process, begin by exporting essential data from your Shopify store. It provides a backup process that ensures a smooth transfer of data.
You need to export product information, customer data, and order history. Additionally, you can also export financial reports, gift codes, and discount codes. The data is exported in a CSV format that is compatible with the migration process to Magento.
Additionally, make a note of any additional information, such as social posts, blog posts, and media backups that you may need to import into your new Magento store. Unfortunately, Shopify does not provide a built-in blog post export. However, you can use third-party apps like Matrixify.
Step 5: Import data to Magento
Migrating data from Shopify to Magento 2 is a two-stage process:
Upload your CSV files
Begin by uploading a CSV file containing all essential product information, customer data, and order history to Magento.

Verify data accuracy
After the data transfer, it's crucial to confirm that all details, including product categories, pricing, customer information, and payment options, are correctly imported.
Addressing data migration challenges
Even though this process seems too straightforward, you may face some issues:
Differences in data formats
One of the key challenges in migrating from Shopify to Magento is the variance in data formats between the two platforms. This discrepancy may require some adjustments during the import process.

Automated vs. manual transfer
You can opt for automated tools like Cart2Cart, LitExtension, or Firebear Studio for a more straightforward migration process. However, these tools might not handle custom aspects of your Shopify store, such as design, apps, custom code, and specific shipping and payment rules​​. Alternatively, a manual transfer offers full control but can be more labor-intensive, especially for stores with a lot of customizations​​.

Seek professional assistance if issues arise
For a more comprehensive and error-free migration, you might consider assisted migration through professional developers. This option, while potentially costlier, ensures a thorough and proper transfer of all essential data and store setup​​.
Step 6: Test your store
Testing your store after migrating data from Shopify to Magento 2 is a critical step. It ensures that the store functions optimally and offers a seamless user experience.
Testing helps verify that product listings, pricing, shipping options, and payment gateways are accurately imported and functioning correctly. It also enables you to evaluate site speed and performance across various devices and browsers. In this way, you can ensure that the store operates smoothly for all users.
Additionally, you would want to assess the overall user experience, including navigation, layout, and ease of use. If you identify any UX hiccups, you will be able to address these issues before they affect your sales.
Areas to focus on during testing
Order processing
Perform tests for order placement, payment, and checkout processes. Ensure that order processing and shipping notifications work accurately.

Website features
Validate the search functionality, product filtering, and sorting options. These features are crucial for a positive customer experience.

Customer account management
Test account creation, login, and order history features to identify any potential issues that need fixing.
By conducting comprehensive and thorough testing, you not only enhance the functionality of your store but also ensure a pleasant user experience for your customers. Following the UX best practices is crucial for the success of your online business.
Step 7: Launch
Launching your store after migrating Shopify to Magento is a crucial phase where strategic planning and continuous monitoring come into play.
Use this period to closely observe how your store performs under real-world conditions. Collect insights from early users to identify areas for improvement.
Step 8: Post-launch monitoring and maintenance
Store launch is not the final point in your eCommerce journey. Actually, the launch is the start of continuous work on maintaining and supporting your store.
After going live, you should pay special attention to:
Continuous optimization
Regularly analyze customer feedback and performance metrics to make necessary adjustments.

Stay updated
Keep your store updated with the latest features and security patches.

Regular maintenance
Consistent check-ups and updates are vital to maintain store health.

Professional support
You may consider engaging with a professional team for maintenance services. At Alva Commerce, we provide the full spectrum of Magento 2 support to ensure that your store operates smoothly and efficiently at all times. This ongoing maintenance can be crucial in maintaining the competitiveness and functionality of your online store.
Conclusion
Migrating from Shopify to Magento, while challenging, opens doors to greater scalability and customization for your eCommerce business. This journey, from initial backup to the final launch, involves meticulous planning, execution, and continuous optimization. Magento's robust platform is particularly suited for businesses aiming to expand and diversify their online presence.
At Alva Commerce, we offer our extensive expertise for a seamless Shopify to Magento 2 migration. Our team stands ready to guide you through this transition. Alva Commerce offers affordable, high-quality solutions and ensures a smooth shift to Magento, paving the way for your business's growth.
Get expert advice on your migration process from our experienced team.
Contact us to discuss your specific migration needs and requirements.
Featured Posts
Take a look at our latest blog posts to find out more about how our collaboration can empower your eCommerce business