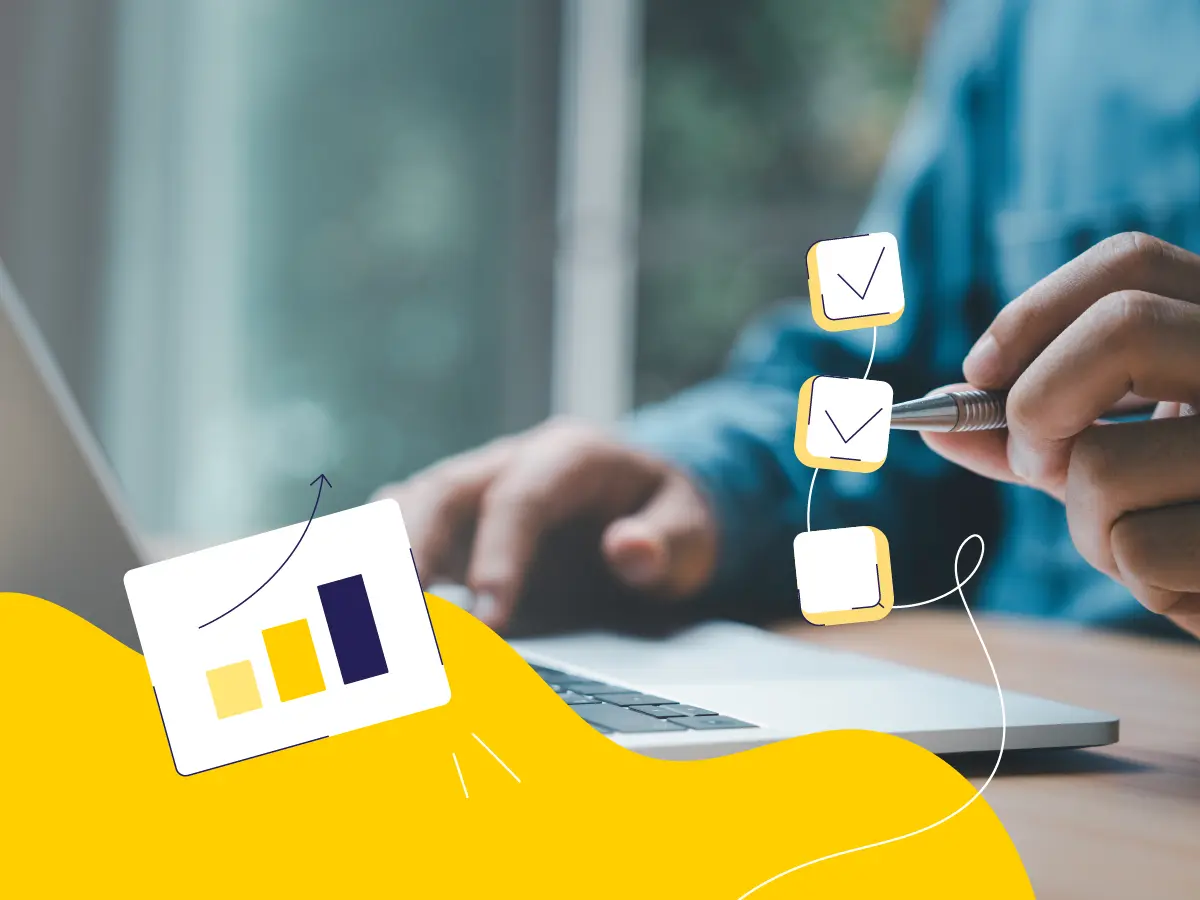 Sorry to break it to you, but your tastes come second when it goes to the design and functionality of your website. You may love the purple color on the home screen or the eight-line contact form but if it's uncomfortable for your user, well, you'll have to redesign it.
This is where UX audit comes into play. Use UX audit checklist from Alva to evaluate your website. You will find the most common mistakes and understand whether your site needs a more detailed check and improvements.
What is e-commerce UX audit
The goal of UX audit is to identify problems and inconveniences that users face on a website or application. For example, difficult access to the cart or the inability to easily customize product filters. The final goal of a UX audit is to increase business profits.
Yes, user experience and revenue are related: 89% of users will buy a product from a competitor if they feel uncomfortable on your website. An almost 9 out of 10 online consumers are not likely to return to you if they have a bad customer experience.
Usability audit is like playing good cop and bad cop. First, the auditor checks the key pages of the site and their functionality, picking up on every little problem. There is no mercy at this stage. But then the auditor says, "Everything will be fine," and offers one-thousand-and-one ways to solve these problems.
According to Amazon, bad UX may cut up to 35% of your revenue
We will find the holes through which your money is leaking
How can your business benefit from e-commerce website audit
The importance of a UX audit can be described in just one story. It has already become encyclopedic, but it's so striking that it's a shame not to mention it.
Once, UX specialist Jared Spool worked with a website of a large American retailer. Jared noticed one thing. When a user had already filled their cart and was about to pay, a login/registration form would pop up. The user couldn't pay without logging in. Hmm. Jared decided to investigate this.
It turned out that many people were furious about this. Some of them couldn't remember their password or email, and some simply didn't want to register on the site. Irritated people abandoned the cart, even though they were half a step away from buying.
When the developers removed that button, the company earned $300 million more in a year.
And this is what the usability audit is about: finding bottlenecks that a) prevent the customer from receiving the service and b) prevent the business from making money.
What factors indicate that something is wrong with UX?
High bounce rate. The bounce rate is the percentage of people who leave your site. They don't click any buttons or go to other pages before leaving. It's good if this figure ranges between 26–40%. It's worse if it reaches 70%, but it's still not too bad. If it exceeds 90% — ugh, you definitely need to do something about it. A high bounce rate may indicate slow loading, cluttered interface, irrelevant content, etc.

High cart abandonment. 70% of carts are left, and this is okay. But higher rates may point out problems with UX. Perhaps users don't trust the site, face unexpected additional fees or a cumbersome checkout process. You need to research it within e-commerce UX audit.

Low conversion rate. In general, the average conversion rate in the e-commerce sector is 1.6%. But the rates vary for different industries. Fashion and apparel — 2.7%, health and beauty — 3.3%, entertainment — 2.5%, electronics — 1.9%, food and beverages — 4.6%. A low conversion rate may signal confusing navigation or unclear calls-to-action.

High customer support inquiries. What kinds of inquiries does your support team receive (and how often)? Questions like "Where can I find information?", "Why is this feature not working?" clearly show problems.
Here are a few more issues: your users aren't engaging with the content; or they would rather call you than use your website. These indicators are hard to calculate, but keep them in mind as well.
When should you carry out a UX audit of your website?
Each of the problems we described above is a reason to check UX. But not the only one.
E-commerce website audit should be conducted before launching significant product updates or before redesigning. Jeff Humble, lead UX designer at CareerFoundry, said: "The value of UX is not wasting time and money developing the wrong solution." And we completely agree with him.
Also, if possible, your company should conduct periodic audits. They will help make sure that the product meets business and user goals. We know that few companies plan their budgets for UX improvements. But we also know that every dollar invested in UX brings up to $100 in revenue. So are these expenses worth it? We think, yes.
Facts and figures: what can a UX audit bring you
In addition to revenue growth, what else does a e-commerce UX audit bring?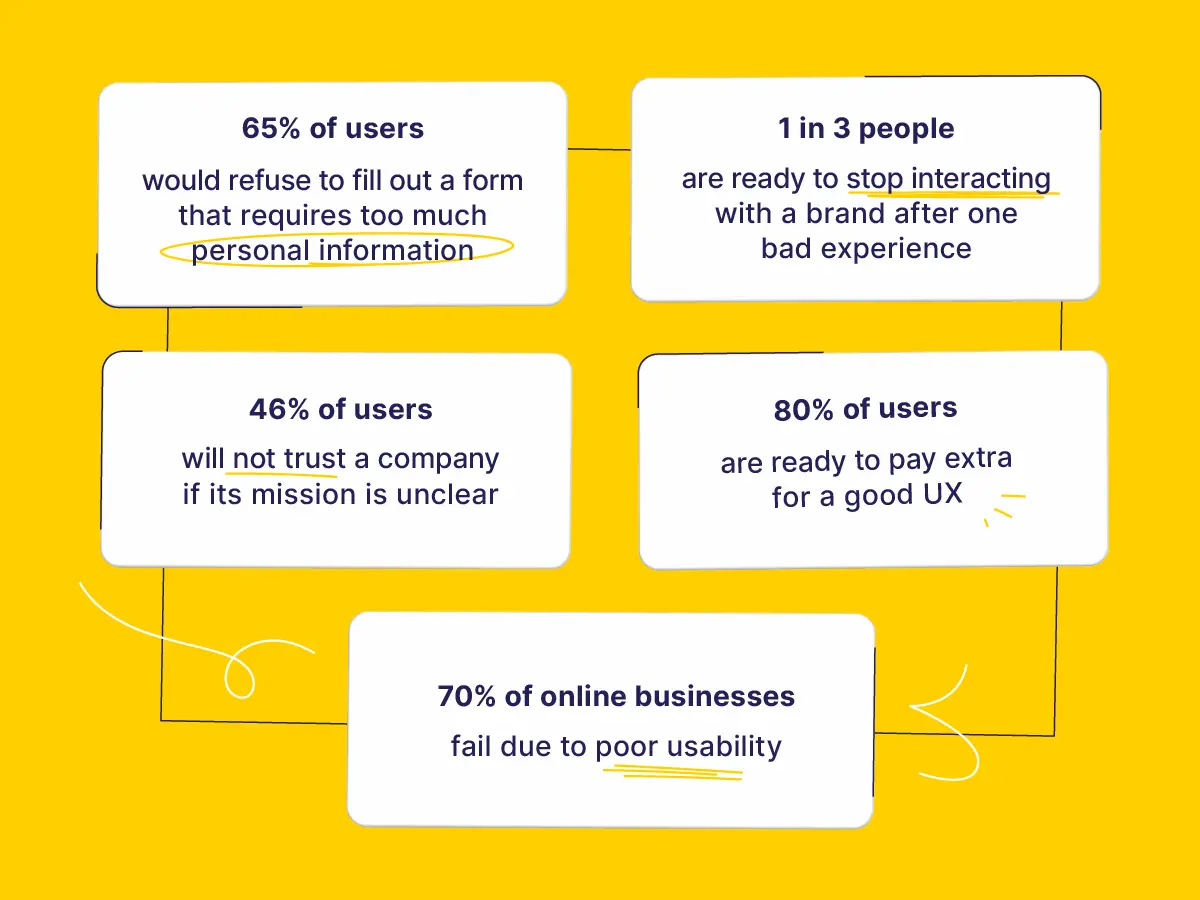 Summing up, as a result of a UX audit, your company can earn more and establish a close relationship with its customers.
Why do you need a usability audit checklist
Now that you've figured out WHY to perform a UX audit, it's time to figure out HOW to perform it. We've compiled a customer experience audit checklist based on our UX audit process. It doesn't include all the parameters we check, otherwise, the list would be almost endless. Use it to do a basic check of your website and decide if you need help from specialists.
Part 1 of website user experience checklist: website efficiency and functionality
The first step in any audit is to set goals. Do you want to improve the user experience? Or increase conversions? Or reduce bounce rate? Your goal will influence the final recommendations for UX improvement.
The second step is to collect actual data on website performance. Using analytics tools, you should determine the bounce rate, time spent on the site, and conversion rates. This allows you to make suggestions about bottlenecks. After that, you finally start digging into the site according to this UX audit checklist.
Navigation and structure
At this stage, you should determine whether it is convenient and easy for the user to navigate the site.
Logo and header are always displayed

The side menu is sticky

The user can get to the shopping cart, the main page, the catalog, or another key page from any other page of the site

Each page has a link to at least one other page

Back-and-forth navigation is available on every page

The user's location on the site is clear
Accessibility and Compliance
At this stage of usability audit you should find out whether it is easy for the user to access the site and share their information.
The site is displayed correctly in all popular browsers

The 404 page offers an alternative action

The user has the opportunity to decline cookies

The website requests permission to use any personal information, including geolocation

The absence of a checkbox in the "I agree" line prevents the transition to the next stage
Mobile responsiveness
55% of traffic comes from mobile phones. If a website does not display properly on mobile, 93% of people leave it. So you should make sure that the site is displayed and works smoothly on smartphones and tablets.
For stores that are used mostly on phones, the mobile-first principle is applied

Banners are adapted to the size of the mobile phone screen

The font size is at least 16 px

The text on the images is large enough to be easily read

Buttons and other clickable elements are large enough to be easily pressed

The site is displayed correctly in both horizontal and vertical positions
Content
This part of e-commerce website audit aims to assess whether the content meets the business goals (to sell your product) and whether it is useful to the client.
The content is written in a style that is familiar and acceptable to the user. The terminology used corresponds to the visitor's knowledge

Content is written in a unified style that matches the brand's tone of voice

Texts are well structured (contain headings, subheadings, paragraphs, and lists)

Calls to action take into account the user's interests

Content is structured according to the F or Z pattern (or has clear visual anchors). This term describes how people's eyes move when scanning a page. These patterns allow you to structure the content on the page so that the user can easily catch the most important elements.
Design and typography
When assessing the reliability of a website, users rely on its aesthetics by 75%. This part of UX audit checklist will help you make sure that the visual component is clear and user-friendly.
Fonts
The website has no more than two types of fonts and three styles

The font size is at least 14px

The size of fonts in headings, subheadings, and text differs from each other by 1.5 times

Capital letters are used only where they are necessary
Visuals
The visuals are clean and uncluttered. Each screen has something to focus on.

There are gaps between important sections

The design uses no more than 3 primary colors

Illustrations complement rather than repeat the message of the texts

Icons match the overall design
The main challenge with a self-audit is to be impartial and fair. It may be difficult because you were involved in the development of the site and know it inside and out. But you should try. After all, 50% of consumers say that website design is crucial to a company's brand.
Don't want to spend hours randomly searching for site bottlenecks?
Entrust your UX audit to Alva and get a clear report on the improvements needed
Part 2 of the website UX audit checklist: pages and elements
After a general overview of the site, you need to focus on every key page.
Home page
In 1–3 seconds, the home page gives a clear idea of the type of store

The home page gives the user an idea of the benefits they can get there

It is not overloaded with banners, products, and offers

The header contains the store name, logo, contacts, and menu

The key information is contained on the first screen and especially in the upper part of it

The home page presents certain products or services that you think are attractive to customers
Main menu
The main menu can be accessed from any page of the site

A menu category contains at most two subcategories

The categories are arranged in descending order of priority
Forms
Forms are embedded (or appear) in the place on the site where they are appropriate and logical

The intent and purpose of the forms are clearly understood

Forms contain the minimum required number of lines

The lines contain hints (e.g., international phone number code)

Long drop-down lists are absent or displayed in such a way that their content does not overlap with other elements of the site

Users can register using social networks or email

The site supports the possibility of generating a password through the browser
Search bar
It is accessible from any page of the site

It contains auto-fill and hints

The search takes into account typos, synonyms, and errors in queries
Search results page
The page displays relevant products

The number of products found is indicated

Products can be filtered
Catalog
If catalog categories contain sub-items, there must be at least 2 of them

The catalog contains intuitive filters

The filter button is always available

The side menu is sticky
Shopping cart
Products can be added to the cart from the product page (without opening the product card)

The cart contains a counter with the number of items

An item can be easily removed or added to the cart

The price of the goods is instantly updated if the user adds or removes items

The order amount is displayed with discounts

Products remain in the cart even if the user leaves the website
Product card
The title contains a clear product name

The product description contains such elements as price, size/type, stock availability, rating, reviews, and brief information about delivery

Photos are clear and detailed. There is an option to enlarge the photo.

When adding an item to the cart, a visual confirmation appears

There is an offer of additional products (in the format "Cheaper together", "Recommended products", or "Users also buy")

There is an option to return to the category or catalog from the product card
Checkout
The design contains only those elements that are necessary for checkout plus the logo

A detailed receipt is displayed, including the amount of the discount and shipping costs

Shipping information is filled in automatically if the user is registered

The fields can be easily cleared even if auto-filling is activated

New users are registered after the order is paid for

The shopping cart is automatically emptied after the order
In addition, your UX audit checklist should include the About Us, Payment and Delivery, Account, and other pages. After the audit, make a list of the problems found and create a plan for fixing them. Or outsource this work to Alva experts.
To sum up
E-commerce UX audit is a service at the intersection of design and marketing. The auditor should not just understand how to make things beautiful. They need to understand the user's behavior and intentions. And most importantly, they have to know what changes will lead to better financial results for the business.
These are the results you get from UX TotalCheck by Alva. Every nook and cranny of your website will be checked for compliance with your business goals. The audit includes:
Analysis of website performance (checking conversion, bounce rate, time spent on the site, etc.)

Search for problem areas on the site where users get stuck or frustrated;

Evaluation of the design (whether it matches the brand and is optimized for user experience);

Content evaluation (whether it is useful, relevant, and encourages the visitor to take action);

Checking the functionality of the site (whether forms, navigation and other interactive elements work properly).
As a result, you will receive a detailed report with a description of the errors and a list of suggestions for improving the site. Implement the proposed changes and you'll get a website that looks great and benefits your business.
If you have any doubts or want to make sure you really need a check, order a free e-commerce website audit from Alva. It does not oblige you to anything. Let's make your website more efficient together.
Your conversions can increase by 400% as a result of UX design
Let's work together for this outcome. The consultation is free of obligation.