Why Use Magento for eCommerce: Main Reasons, Benefits, & Features
Alva Commerce
eCommerce Services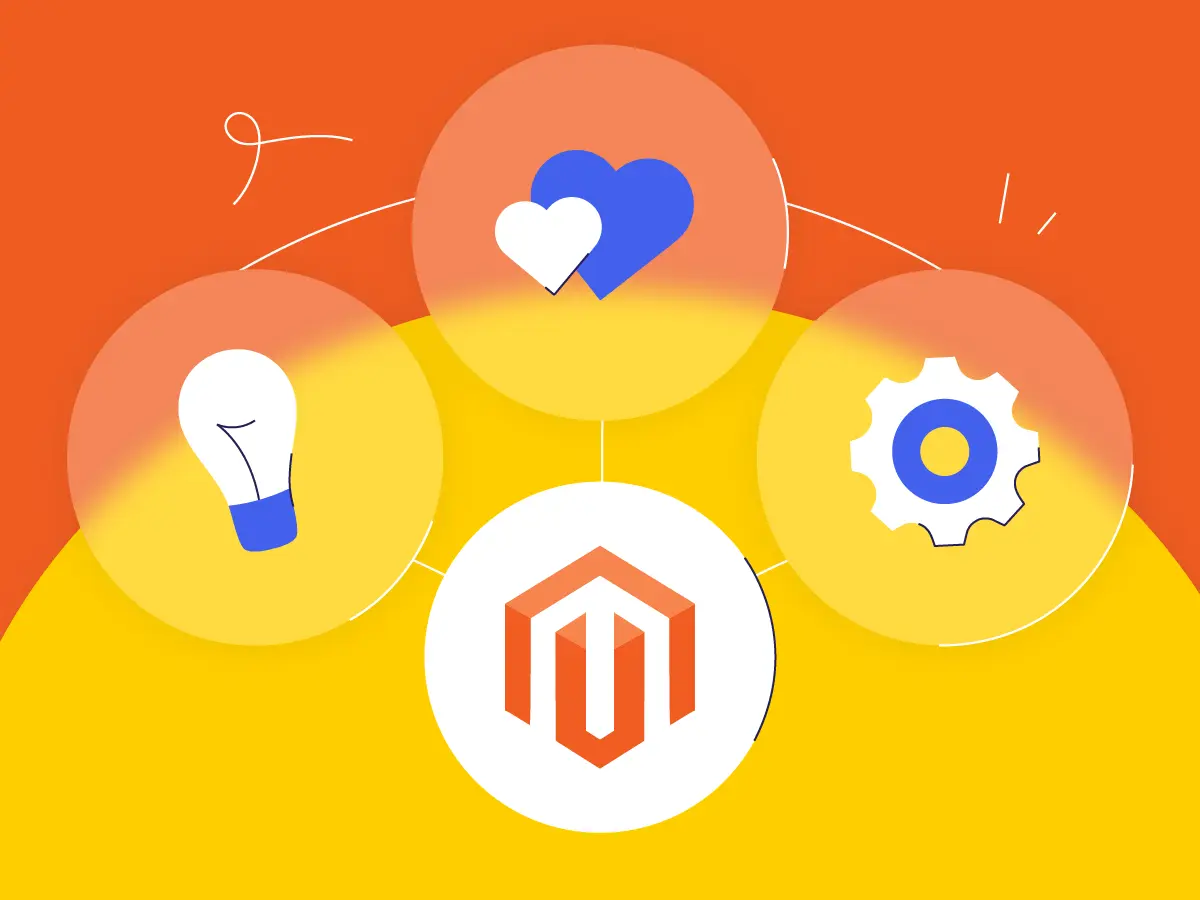 If you're already an online store owner and searching for a better platform to host it, you could feel a bit overwhelmed. The platform choice is quite wide, and you must ensure that it will perfectly meet your unique needs.
The three main players in the eCommerce platform market are Shopify, WooCommerce, and Magento. Each of these platforms features some unique benefits for different businesses. You can learn more about each of them in our platform comparison.
In this article, we'll focus primarily on Magento Open Source. We'll explore when and why it is the best choice for your eCommerce development.
Wondering if Magento 2 is suitable for your business?
Contact our team for an expert consultation on possible solutions.
What is Magento eCommerce?
Magento is an open-source eCommerce platform. It's widely recognized as one of the industry's most robust and versatile ones.
It's a flexible solution for building and managing online stores. Magento Open Source is an ideal choice for small and medium-sized businesses. Its scalability ensures that as your business expands, your eCommerce platform can grow with you.
| | Magento | Shopify | WooCommerce |
| --- | --- | --- | --- |
| Target audience | Adapts to any business's needs | Small, medium, enterprise businesses | Small and medium businesses |
| Pricing | Free | Starting from 32 USD/month for the most basic version | Free |
| Need specialized website development | Yes | Not necessarily | Not necessarily |
| Advanced customization | Yes, you can build anything you need | Limited to your subscription plan | Limited |
| Hosting | No | Yes | No |
Adobe also offers a paid version called Adobe Commerce. It offers more advanced features and support for larger enterprises.
Magento features and benefits for eCommerce
Magento is an eCommerce ecosystem. It provides a foundation for creating online stores of all sizes and complexities. It's suitable for all –  from small boutiques to large enterprises. Our team has compelled a list of competitive advantages that differentiate Magento from other eCommerce platforms. In this section, we'll explore them in more detail. 
1. Open source
The open-source nature of Magento is a huge benefit. It means you have unrestricted access to the source code. Using Magento grants you complete freedom to tailor your online store to match your business needs. 
Unlike platforms with rigid templates and themes, Magento offers a blank canvas for you to create an eCommerce site. This level of customization is a benefit for businesses with unique requirements. 
If you don't need a sophisticated custom solution, you can opt for a ready-to-use Magento theme like Hyvä. By opting for a ready-to-use theme, you save on the development costs and speed up the time to market. Alva Commerce is an official Hyvä provider, we have extensive experience working with this theme for eCommerce needs.
2. Future-proof platform
While some platforms like WooCommerce are well-tailored for small and medium websites, Magento is suitable for any business. It is highly scalable and agile. It can grow with your online store, regardless of its current scale. 
Magento follows a modular architecture, allowing you to add or remove modules (extensions) as your business requirements change. This modular approach ensures that your store can evolve without extensive development work, saving you time and resources.
By using Magento, you ensure that your store won't outgrow the platform, saving you the hassle of migrating to a new platform as your business expands.
3. User-friendly administration
Managing an eCommerce store can be a daunting task, but Magento simplifies the process. Its merchant-focused admin panel makes it easy to
Add and update products
Add and edit product groups and collections
Manage customer data
Handle orders
Review reports and analytics
Manage page content
Magento's intuitive interface streamlines the backend management of your store, saving you time and effort. It's designed with the user in mind, which means you don't need to be a tech expert to operate your eCommerce business effectively.
4. Ensures excellent user experience
Magento places a strong emphasis on the user experience. It ensures your customers enjoy a seamless shopping journey. Magento makes it effortless for them to navigate your website, discover products, and complete their purchases. A pleasant shopping experience translates to happy customers and, ultimately, increased sales. This is why choosing Magento can be a game-changer for your eCommerce business.
5. Adapted for mobile devices
With the increasing use of smartphones for online shopping, having a mobile-responsive website is crucial. According to Digital 2023: Global Overview Report, around 59.8% of purchases are made using mobile devices. And this share is growing steadily. 
Magento ensures that your eCommerce site looks and functions flawlessly on all devices.  This adaptability enhances the user experience and expands your reach to a broader audience.
Adobe offers a specialized Progressive Web Apps (PWAs) studio for Magento. This technology takes mobile optimization to the next level. PWAs combine the best of both mobile websites and native mobile apps. 
Websites built with the PWA technology look like apps on mobile devices, but users don't have to download them. They are faster than ordinary sites, thanks to advanced caching mechanisms. Such online stores are also available in low network conditions and offline.
Thanks to PWAs, you can enhance both the customer experience and your conversion rates.
Considering a migration to Magento Open Source?
Click below to explore more about migration with Alva Commerce.
Learn more
6. SEO-friendly
Visibility is paramount for eCommerce success. If you are not among the top search results, you basically don't exist. SEO compliance means your products and services are more discoverable online. An SEO-optimized website is likely to enjoy increased organic traffic and improved search engine rankings. That is why migrating to Manento may lead to more opportunities to convert visitors into customers.
Magento Open Source's architecture is inherently SEO-friendly. It features:
Search engine-friendly URLs
Magento generates clean and descriptive URLs for your products, categories, and other pages.

SEO metadata
You can set unique meta titles, meta descriptions, and meta keywords for each product and category.

Canonical tags
Automatically generated canonical tags prevent duplicate content issues. They indicate the preferred page version to search engines.

XML sitemaps
Automatically generated XML sitemaps provide search engines with a comprehensive list of all your website's pages.
Besides that, search engines favor fast-loading sites and rank them higher. Magento provides built-in tools for monitoring your website's performance. You can access detailed reports on website performance, including page load times and other critical performance metrics. These insights allow you to identify areas that need improvement. That's why using Magento for eCommerce is a great fine-tuning your website for better SEO rankings.
7. Perfect for a global market reach
If you have aspirations of reaching an international audience, Magento is your ideal choice. It supports multiple languages and currencies, making it suitable to cater to a global audience.
Multilingual capabilities
One of the cornerstones of global expansion is the ability to speak your customers' language. Magento Open Source enables you to create and manage multilingual stores.
You can set up multiple store views for different languages. This allows you to present your products and content in the native language of your target markets. At the same time, you can adapt the design for each locale.
With Magento, you can use different language and translation packs for website localization. They include translations for the core system and standard themes.
Multiple Currency Support
You can configure Magento to accept payments in various currencies so that customers can shop and pay in their preferred currency.
Shipping Options
Magento integrates with various shipping carriers. You can set up shipping rules and conditions based on the destination and product attributes.
Expanding your horizons and tapping into new markets becomes a realistic goal. Magento's flexibility means that your store can adapt to the unique needs of various international markets.
8. Seamless third-party integration
One of the key benefits of Magento for eCommerce is that it integrates with a vast array of third-party applications and services. With this platform, you can connect almost any software. It includes payment gateways, AI and personalization tools, marketing tools, or other tools. This integration capability streamlines operations and makes your business more efficient. It saves you the headache of dealing with disparate systems and scattered data.
Since Magento is one of the most popular eCommerce platforms, there are many apps for integrating with it. No matter what you need, it's likely that there is an extension already available. So, you can save time and costs necessary for development.
9. Advanced reporting and analytics
To make informed business decisions, you need data. Magento provides advanced reporting and analytics tools. They give you valuable insights into your store's operations.
Magento's advanced reporting is highly customizable. You can tailor dashboards to display data based on any metrics like products, orders, customer data, etc.
Additionally, you can subscribe for Magento Business Intelligence (MBI). It's a convenient tool that consolidates all your data from different sources and integrations. Using this tool, you can run advanced search queries, merge or split tables, build custom analytics with reports builder, etc.
This reporting and analytics functionality enables you to fine-tune your strategies, understand customer behavior, and optimize your site for better performance. In essence, Magento empowers you with the data-driven knowledge needed to grow your business.
10. Trusted developer and robust functionality
One of the most substantial benefits of Magento eCommerce is that it has earned a reputation as a trusted platform within the eCommerce sector. It boasts a large and active developer community and an extensive marketplace of extensions and plugins. This means your eCommerce site can enjoy robust and reliable functionality, and you have access to a wealth of resources to enhance your store's capabilities.
Who should consider Magento for eCommerce development
Let's explore when you should consider migrating to Magento or developing your website using this platform:
You're a small or medium-sized business
Magento is a budget-friendly solution for such businesses. It doesn't require any subscription and is as flexible as other paid platforms. What is more, Magento is modular, meaning that your website can scale as your business grows.

You have non-typical requirements
This platform is highly flexible and can be adapted to almost any imaginable business needs. For example, an integration of custom-developed applications or sophisticated business flows. Check out our case study on implementing a tailored solution for CockPit 3D with Magento.

You aim for the global market reach
Magento enables you to adapt your website for different audiences and cater in several languages and currencies. Additionally, it supports the integration of various local taxing systems, payment gateways, and shipping options. So, your online store has all the means to deliver an excellent user experience to your target audience worldwide.
Conclusion
Selecting the right eCommerce platform is a pivotal decision for your business's success. So, why is Magento so popular? Primarily, because it offers an unparalleled combination of flexibility, scalability, user-friendliness, and advanced features.
Its modular architecture allows for the addition or removal of modules as your business needs evolve. Magento's inherent SEO-friendliness translates to increased organic traffic and improved search engine rankings.
As you embark on your eCommerce journey or transition to Magento, Alva Commerce is ready to provide expert guidance and support. Our team will ensure a seamless and successful integration of this platform into your business operations.
Contact us today to explore the possibilities Alva Commerce can offer for your Magento store.
Featured Posts
Take a look at our latest blog posts to find out more about how our collaboration can empower your eCommerce business