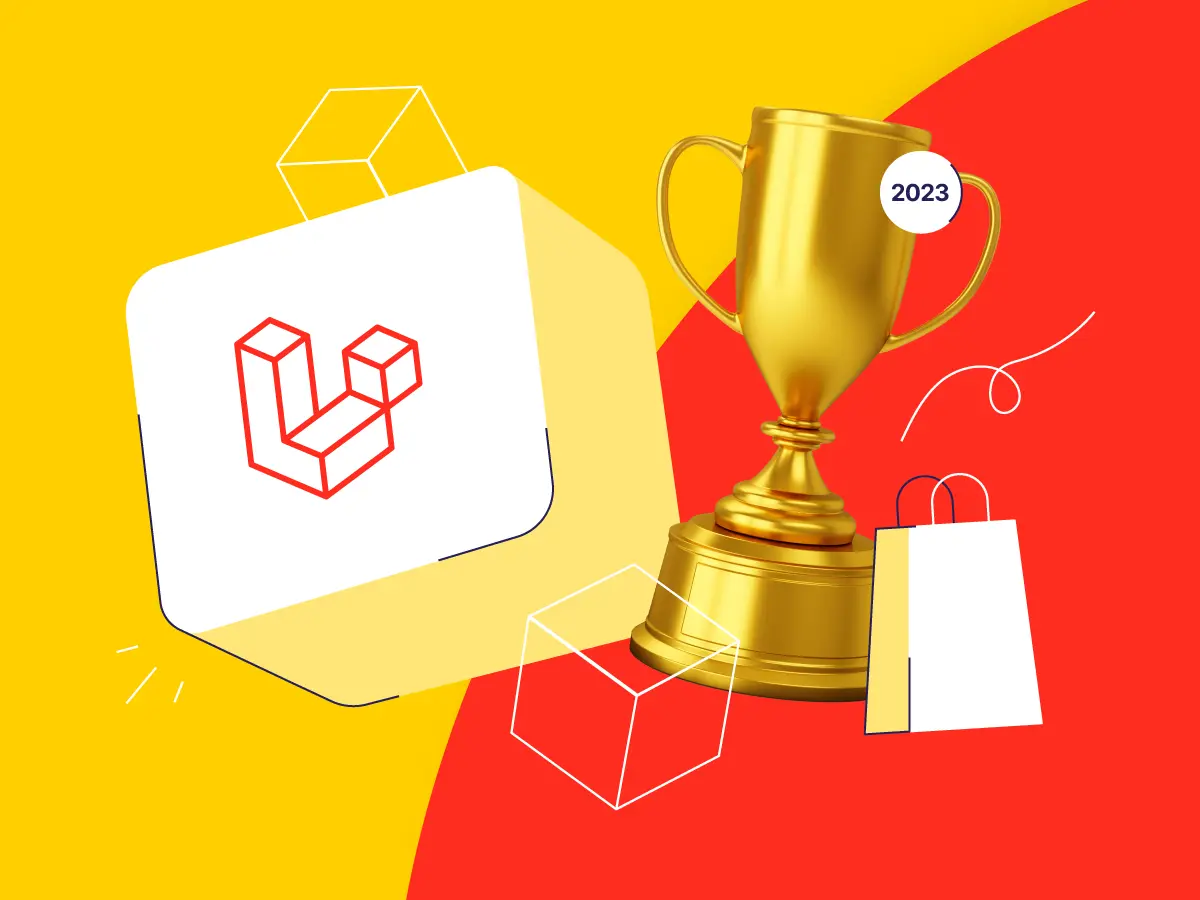 Laravel is a powerful PHP framework with a rich ecosystem of packages. They are a sort of toolkit for crafting and running your online store or app. In this article, we'll explore how your online store can benefit from these packages in 2024.
What is a Laravel eCommerce package?
Packages might sound a bit technical but think of them as your online store's secret weapon. These packages are like pre-assembled toolkits for building and running your eCommerce website or app.
Laravel, like Magento, Shopify, and WooCommerce, features a large package list. For example, their number in Packalyst has already exceeded 15k.
Unlock the benefits of Laravel packages
So, why should you consider using eCommerce packages for Laravel in your online store? Here are four reasons:
Speedy development
Packages are like shortcuts for developers. They come with pre-built eCommerce features. This means less time spent on coding from scratch and more time to focus on your business.

Budget-friendly solutions
You can trim down the development expenses. Packages allow you to launch your online store without breaking the bank.

Reliability you can trust
Laravel packages for eCommerce are updated and tested to ensure they work like a charm. So, you can expect both reliability and security.

Faster time-to-market
With Laravel plugins, you can launch your online store quickly. This means you'll be ready to seize market opportunities and start generating revenue soon.
Ready to take your eCommerce game to the next level?
Request a free consultation with our team to learn how we can help your business succeed with Laravel.
Top 3 best Laravel packages for building a store
Laravel eCommerce packages can save developers a significant amount of time and effort. They come with pre-built solutions for common eCommerce functions. So, developers can adapt it, instead of building from scratch.
Now, let's delve into the packages we're about to discuss in this section. They all share some essential features and functionalities, including:
Shopping cart
This feature lets users add and manage products in their cart before they check out.

Product catalog
A catalog equipped with features for adding, editing, and displaying products.

Checkout and payment
Seamless integration with popular payment gateways and a hassle-free checkout process.

Order management
Tools to manage and track orders. They include order history, status updates, and order processing capabilities.

User accounts
Features for user registration, authentication, and account management. Customers can log in, check their order history, and update their profile info.

Inventory management
Keep tabs on your inventory with tracking and management features. These tools usually include stock level monitoring and low stock notifications.

Shipping and tax calculations
Integration with shipping carriers and tax calculation services for a smooth shopping experience.

Multi-language and multi-currency support
Reach a global audience with support for multiple languages and currencies.

Responsive design
Enjoy a seamless shopping experience across various devices thanks to responsive design templates.

SEO optimization
Tools and features to boost your eCommerce website's visibility on search engines.

Analytics and reporting
Built-in reporting and analytics features to track sales, customer behavior, and other metrics.
These Laravel PHP packages lay a strong foundation for creating robust eCommerce websites. They allow developers to concentrate on developing projects to fit your business needs.
1. Bagisto
Performance: ★★★★☆
Simplicity: ★★★★☆
Mobile friendly: ★★★★☆
Bagisto is an open-source eCommerce framework designed for Laravel. It helps developers create online stores and marketplaces that are both functional and easy to customize. What's special about Bagisto is that it's modular and flexible. So, it's a great choice for online store development.
This package has been downloaded almost 83,000 times from Packalyst. It is currently used by approximately 25,000 companies.
Why choose Bagisto?
Multi-store and multi-tenant
With Bagisto, you can create several stores or marketplaces within a single installation. This flexibility is perfect for businesses looking to expand their online presence.

Seamless shopping on any device
Bagisto is built with PWA technology, ensuring that customers can enjoy shopping no matter what device they're using. This means happier customers and more sales for your business.

Smooth integration with other tools
Bagisto also provides a RESTful API. This makes it easy to connect with other services, mobile apps, or systems.
When should you consider this package?
Bagisto is a great choice if your business has specific needs. For instance, if you need to manage multiple stores, deal with different currencies, or reach a global audience with different languages. Bagisto can handle it all.
Additionally, if you want to launch your online store quickly, Bagisto is the way to go. It's designed for easy setup. As your business grows, you can adapt and expand your online store without starting from scratch.
2. Aimeos
Performance: ★★★★★
Simplicity: ★★★☆☆
Mobile friendly: ★★★★☆
Aimeos for Laravel is an open-source eCommerce package for Laravel. It offers a versatile and adaptable platform for building feature-rich eCommerce websites. Aimeos stands out with its focus on performance, flexibility, and scalability.
Why choose Aimeos?
Performance First
Aimeos takes performance seriously. It uses efficient database structures and caching to make your eCommerce site fast and responsive. It can handle catalogs with up to one billion items in just 20 milliseconds.
Sell everywhere
Aimeos supports multichannel eCommerce. So you can sell products on various platforms like web stores, mobile apps, and third-party marketplaces.

Cloud compatibility
Aimeos works with cloud platforms like AWS, Google Cloud, Azure, or Kubernetes-based setups.

Subscription-friendly
It's great for businesses offering subscriptions and recurring payments.

Wide range of payment options
Aimeos supports over 100 payment gateways through the Omnipay PHP library. This means you can offer customers a wide range of payment choices.
When should you consider this package?
Consider Aimeos if your business values performance and responsiveness in eCommerce. It's also perfect for companies with subscription-based services.
It's the right choice for businesses aiming to create responsive and adaptable online stores, especially those with complex needs and a focus on user experience.
3. Vanilo
Performance: ★★★☆☆
Simplicity: ★★★★☆
Mobile friendly: ★★★☆☆
Vanilo for Laravel is an open-source eCommerce package. It is designed with simplicity and flexibility in mind. This makes it an appealing choice for businesses seeking a straightforward and adaptable eCommerce solution.
Why choose Aimeos?
This package provides an uncomplicated and intuitive interface for both developers and merchants. This focus on usability sets it apart as an accessible eCommerce solution.
While Vanilo offers customization options, businesses with complex requirements may need additional development.
When should you consider this package?
Vanilo is an excellent option for small and medium-sized businesses. It provides an uncomplicated eCommerce platform, ideal for establishing an online presence.
If you have plans to expand into international markets, you can also take advantage of Vanilo's support for multiple languages and currencies.
4. Laravel Shopper
Performance: ★★★★☆
Simplicity: ★★★★☆
Mobile friendly: ★★★★☆
Laravel Shopper is an open-source eCommerce package for Laravel. It equips you with an all-inclusive toolkit for creating and managing online stores. This package offers a potent and adaptable solution for constructing websites and apps.
Why choose Laravel Shopper?
The standout feature of Laravel Shopper is its effortless integration with Laravel applications. It blends with your existing setup, making it the preferred choice for developers seeking to infuse eCommerce functionality into their projects.
When should you consider this package?
Much like Vanilo, Laravel Shopper shines when it comes to serving small and medium-sized businesses. It's a modular platform that's ideal for establishing or expanding your online presence.
Moreover, if you don't consider yourself a tech wizard, don't worry. Laravel Shopper is designed to be simple yet highly capable. It provides you with an accessible means to manage your online store.
Thinking about Laravel for your online store development?
Explore how Alva Commerce can help you to unlock the full potential of your Laravel venture.
Best eCommerce packages for improving your Laravel web store
In this section, we explore Laravel packages you can integrate to enhance your online store's operations. These standalone packages usually focus on specific areas of your online business.
1. Spatie
Spatie is a popular Laravel library of packages. It provides a set of open-source packages that extend Laravel's functionality in various ways.
These packages span a wide spectrum of functionalities, including, but not limited to:
Authorization
Spatie introduces packages like "laravel-permission" to simplify the management of roles and permissions.

Media management
With "laravel-medialibrary" handling media files like images and videos becomes a breeze.

Search
"laravel-searchable" empowers you to put in place a full-text search in your store.

Backup and monitoring
"laravel-backup" enables the creation of backups for your application's files and databases. Meanwhile, "laravel-monitor" assists in monitoring the health and performance of your website.

Error tracking
"laravel-flare-client" integrates Laravel with the Flare error tracking and monitoring service.
These represent just a glimpse of the extensive packages offered by Spatie. Each package is easy to use and integrate with Laravel. They save developers time and effort when adding common features to your web apps. Spatie has gained a strong reputation for providing high-quality packages to enhance development.
2. Socialite
Laravel Socialite is an official Laravel package. It simplifies the process of integrating social authentication into Laravel applications. Social login allows users to sign in to your store with their existing social media accounts. Users can log in with Facebook, Twitter, Google, GitHub, etc. This login method is more convenient for users than creating separate login credentials for your website.
The beauty of Laravel Socialite lies in its ability to abstract much of the complexity associated with the OAuth authentication process. This means that implementing social authentication in your Laravel app is remarkably straightforward, ensuring a seamless user experience.
3. Laravel Backup
Laravel Backup is a package that simplifies the process of creating and managing backups for your web apps. Regular backups are critical. They serve as a safety net in case of any mishaps or system errors that could endanger your online shop's data.
With this package, you gain the power to preserve your data through:
Database and file backups
This feature takes center stage in safeguarding crucial website data and assets. No matter what happens, you can restore your online store and run it as usual.

Scheduled backups
You can configure Laravel Backup to run backups on a schedule (e.g., daily, weekly, or monthly). Scheduled backups automate the backup process, ensuring regular and consistent data protection.

Cloud storage integration
The package supports integration with cloud storage services such as Amazon S3, Google Cloud Storage, and Dropbox. By saving your data into off-site storage, you can ensure that it's protected at all times.
4. Laravel Cashier
Laravel Cashier is a package for handling subscription billing and recurring payments. It simplifies the integration of payment gateways, such as Stripe and Braintree, into your online store.
Key features and functionalities of Laravel Cashier include:
Subscription management
Laravel Cashier provides an intuitive API for managing user subscriptions. It allows you to create, update, cancel, and resume subscriptions for users in your store.

Payment gateway integration
The package supports several payment gateways. Cashier makes it easier to interact with these gateways and switch between providers.

Billing plans
You can define different billing plans with specific pricing, trial periods, and features.

Coupon codes
Cashier allows you to add coupon code functionality. So users can apply discounts to their subscription payments.

Invoices and transactions
The package manages invoices and transactions. So, it's easy to retrieve billing history and details for users.
Laravel Cashier is an excellent option for handling payments in your store. It's especially beneficial if you need to implement subscriptions or reporting procedures.
5. Fortify
Laravel Fortify is a package for handling common authentication and registration functionality. Its purpose is to simplify the setup of user authentication, registration, password reset, and related features.
With this package, developers can swiftly configure fundamental login and signup scenarios. Laravel Fortify is the ideal choice for rapidly establishing authentication in new Laravel projects.
6. Laravel SEO
Laravel SEO by Ralph J. Smit is a dedicated package designed to boost your website's visibility in search engines. This package simplifies the process of enhancing your website's SEO performance. So, your online store ranks higher in search engine results.
With Laravel SEO, you can:
Easily optimize your website's on-page elements, like meta tags, headers, and content, for better SEO.

Use schema markup to give search engines structured data, making your site more appealing in search results.

Automatically generate XML sitemaps, making it simple for search engines to crawl and index your pages.

Access useful SEO insights and analytics to track your site's performance and keyword rankings.

Customize SEO settings to match your unique needs and preferences.
To sum it up
Whether you opt for Bagisto's versatility, Aimeos' focus on performance, Vanilo's simplicity, or Laravel Shopper's seamless integration, these packages serve as the backbone for robust eCommerce websites. They enable developers to concentrate on creating tailored solutions to meet your business needs.
Furthermore, packages like Spatie offer additional enhancements, extending Laravel's capabilities and saving developers time and effort when adding common features to your web apps.
In a rapidly evolving digital landscape, making the right choices can define your eCommerce success. These Laravel eCommerce packages offer the tools you need to excel. They ensure that your online store not only survives but thrives in 2024 and beyond
Interested in learning more about how Laravel can boost your eCommerce?
Contact us for a free consultation with our expert team and embark on your journey to eCommerce success today.