Magento Maintenance: How to Nurture Your Online Store After Its Launch
Alva Commerce
eCommerce Services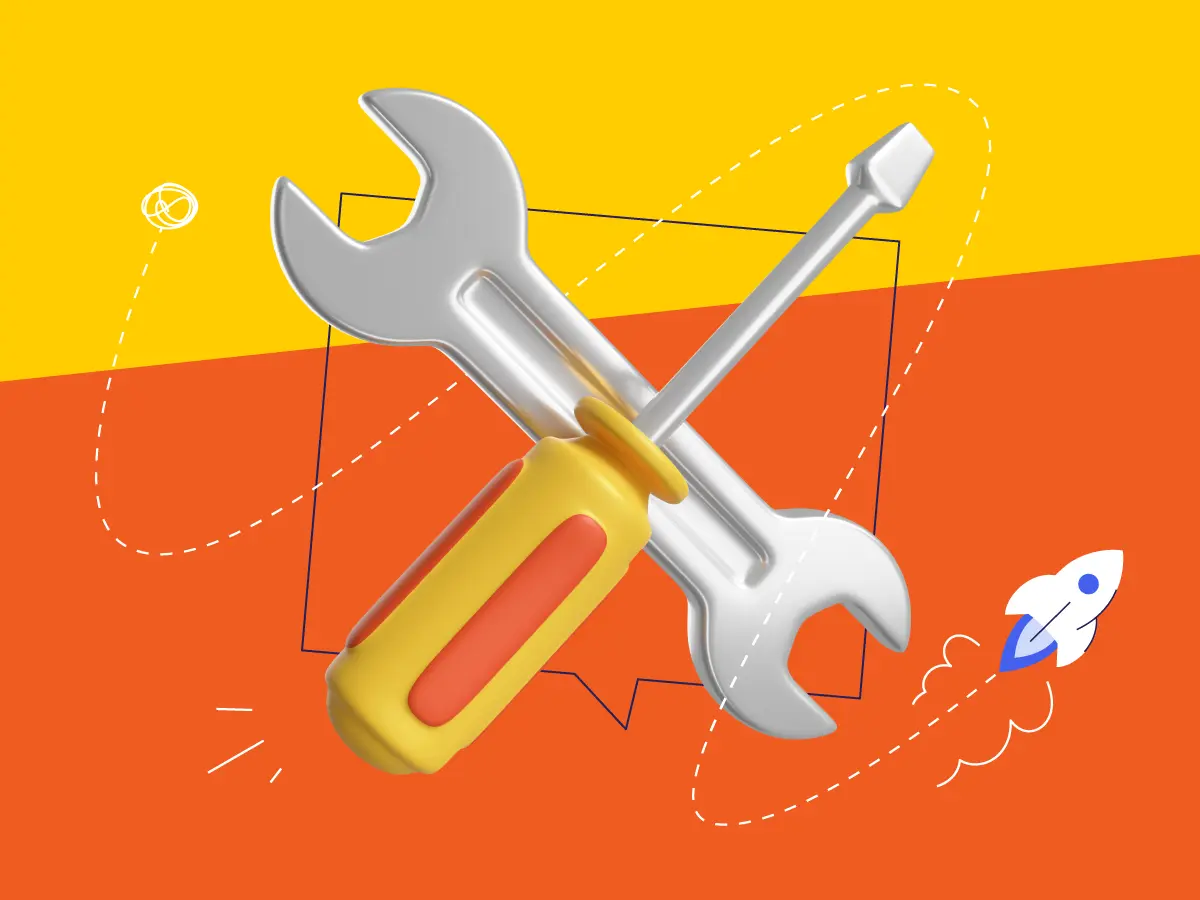 So, you've launched your new Magento-powered online store, and your business is up and running. You have ensured that it enjoys the most advanced functionality and robust security. Your website is ready to serve the customers and grow.
But, here's the million-dollar question: are you set for the long haul?
Once your eCommerce venture takes off, maintaining and supporting your Magento platform becomes crucial for continued success. In this article, we'll explore why you need Magento maintenance and support after the initial launch.
Ready to elevate your eCommerce game? Let's talk!
Reach out to our expert team and unleash the potential of your online store.
What is Magento 2 support?
Magento maintenance is a vital service to ensure the ongoing health of your website. These services encompass various essential aspects to keep your online store running smoothly. Here's a breakdown of what Magento support entails:
Software updating
Performance tuning
Extension and functionality configuration
Bug fixes and troubleshooting
Security maintenance
Health check and ongoing development
What do you get from ongoing Magento maintenance?
Magento support offers a comprehensive package of benefits. Investing in ongoing support is an investment in the long-term success of your eCommerce business. The image below lists some of the crucial advantages you as a business owner enjoy with Magento support.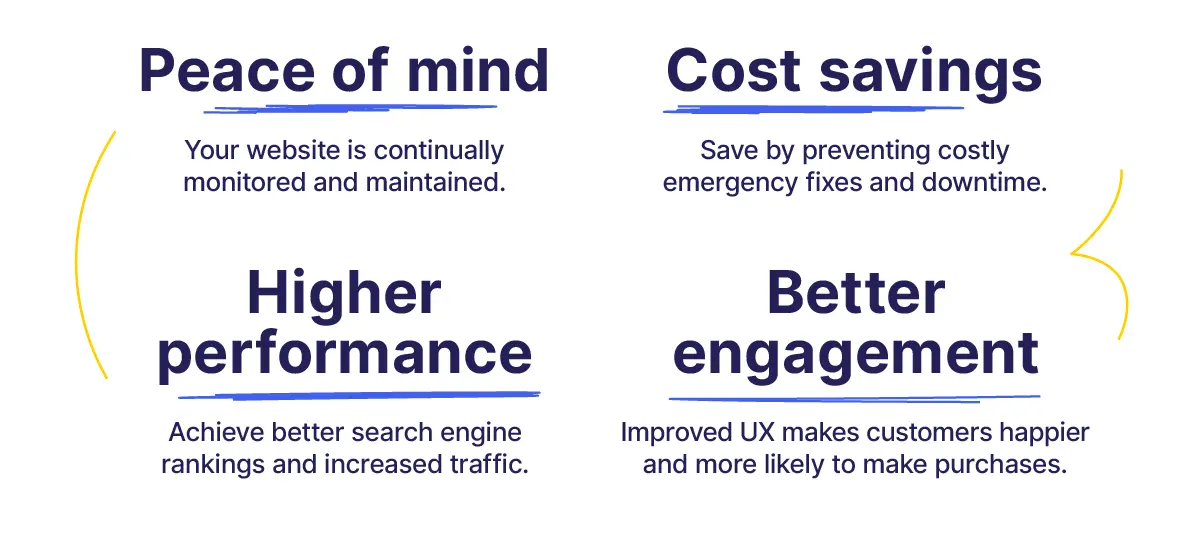 Keep up with new technologies and advancements
Keeping your online business thriving requires a keen focus on staying updated with new technologies and advancements.
Magento releases
Magento frequently releases updates to enhance performance and security. But it's not as simple as clicking a button, and you're done. Upgrading may result in incompatibility issues and potential disruptions in services.
That's when expert Magento maintenance comes in handy. An experienced team ensures these updates are smoothly integrated into your system without hiccups. Experts test all extensions and functionality after the update to ensure everything works as expected.
Extension updates
Using outdated extensions is akin to leaving the back door of your online store wide open to security threats. Hackers are continually discovering new vulnerabilities. Moreover, app developers publish information on what security issues were addressed in this or that release. So, sticking with obsolete extensions is like an engraved invitation for hackers.
Outdated extensions can also put a significant drag on your site's performance. In a world where every second counts, a slow-loading website can cause potential customers to hit the "back" button and seek out your competitors.
Magento support encompasses regular updates of installed extensions. Expert developers will review or advise you on trusted extension developers and optimal apps for your website.
New technologies and best practices
Website code often includes resources like libraries or frameworks. New versions and improved alternatives are released quite often. That's why staying updated is crucial for your site's performance and optimization.
What is more, industry giants like Google have their own code guidelines. They expect websites to adhere to these recommendations, especially when it comes to elements like carousels and tags. Falling out of sync with these best practices could lead to dire consequences. Your website's search engine rankings may plummet, making it more challenging for prospective customers to find your store.
Staying up-to-date means maintaining your website's security, performance, and visibility. Ensuring that your code, extensions, and resources are updated safeguards your eCommerce business. You protect it against potential threats and offer a seamless shopping experience to your customers.
Performance optimization
Magento speed optimization is all about ensuring that your website runs efficiently and delivers an exceptional user experience.
For online commerce, literally every second counts. A study conducted by Portent identified that websites that load in 1 second or less enjoy a 40% conversion rate. The websites that load in 2 seconds see an 8% decrease in conversions. So, even a one-second delay can cost you hundreds of thousands in revenue.
Online shoppers expect quick access to products, information, and a seamless shopping experience. If your website doesn't meet these expectations, you risk losing customers to competitors.
With regular Magento support, you can mitigate performance-related risks and issues. The expert team continually monitors your website's loading speed and addresses issues if they arise. Magento speed optimization encompasses:
Code audit
Expert team reviews your website's codebase to identify duplicates, unoptimized extracts, and other issues.

Database optimization
Developers clear your website's database to reduce its size and prevent excessive queries.

Server configuration
Hosting settings are fine-tuned to meet your store's requirements. It may also include migration to a dedicated Magento hosting.

Images minimization
Optimizing images and videos is crucial for your SEO rankings. This aspect can also involve implementing lazy loading or configuring image-optimizing extensions. According to Google, by compressing images and text, you can reduce your pages' size even by 250 KB.
| Prevent | Detect | Address |
| --- | --- | --- |
| Take actions to maintain your website's well-being. | Identify problems before they escalate to a critical level. | Resolve problems as they arise. |
Address bugs and issues
Bugs and issues are the unwanted guests that can disrupt your digital storefront. They lurk in the shadows, waiting for the most inconvenient moment to make their presence known. And when they do fire at your store, its operations are disrupted, and you lose money from sales and urgent technical support.
Magento support can quickly identify and fix issues, ensuring your website provides a seamless shopping experience, leading to satisfied customers and more sales.
Regular backups and recovery
Your website can face unforeseen challenges. Whether it's accidental data loss, server issues, or security breaches, having regular backups is your safety net. With Magento maintenance, developers make regular backups and can restore them at any time, no matter what happens.
Implement UX/UI enhancements on the go
User experience (UX) and interface (UI) are critical for retaining customers and converting sales. Thanks to ongoing Magento support, you can continually improve your website's look, making it even more appealing and user-friendly.
Keep up with design trends
Just like fashion trends change over the years, web design trends also evolve at a lightning pace. What was cutting-edge just a few years ago may now seem out of touch. Remember when websites were adorned with pretty little visual elements, making them look more like a digital circus? Well, those days are long gone. The new mantra is "less is more."
Today, minimalism is the basic principle now. Clean lines, spacious layouts, and simple, intuitive navigation are the order of the day. However, what's trending in design today might not hold true a few years from now. That's why it's essential to keep your finger on the pulse of web design and be ready to adapt.
With Magento maintenance, you can introduce gradual changes, one step at a time. By doing so, you can build upon your existing design and adapt it to the latest trends. This not only maintains the visual appeal of your website but also guarantees a user experience without interruptions.
Address UX issues
User experience is paramount. It's imperative that every click a customer makes is seamless and intuitive. Addressing UX issues ensures that your website remains competitive and aligned with industry standards. It sets you apart from competitors who offer less-than-ideal user experiences..
Even with thorough pre-launch testing, when your website goes live, it's like opening the doors to a real-world store – you start to uncover its subtle quirks. These may include issues like a lengthy checkout process, confusing wording, or buttons that are easy to miss. But here's the good news: these are typically easy-to-fix issues.
Magento support enables you to tackle these UX hurdles swiftly. You can save both time and resources by avoiding the search for a developer or a company to make minor adjustments. You will always have an expert team within several clicks reach. They are always ready to fine-tune your website when you need it.
Conclusion
In eCommerce, the journey doesn't end at the launch of your Magento store; it's just the beginning. With Magento maintenance and support, you're ensuring that your business always stays afloat and thrives. So, why wait for problems to arise when you can be proactive in safeguarding your online store's success?
From software updates to performance optimization, from bug fixes to security maintenance, and beyond, Magento maintenance and support are your pillars of support. These services safeguard your eCommerce business, positioning it for sustained success and growth.
At Alva Commerce, we're committed to taking care of your website's well-being, so you can focus on growing your business. Our expert team will be by your side to ensure that your website is always in the best possible shape.
Secure your Magento store's future.
Contact us for expert maintenance and support.
Featured Posts
Take a look at our latest blog posts to find out more about how our collaboration can empower your eCommerce business