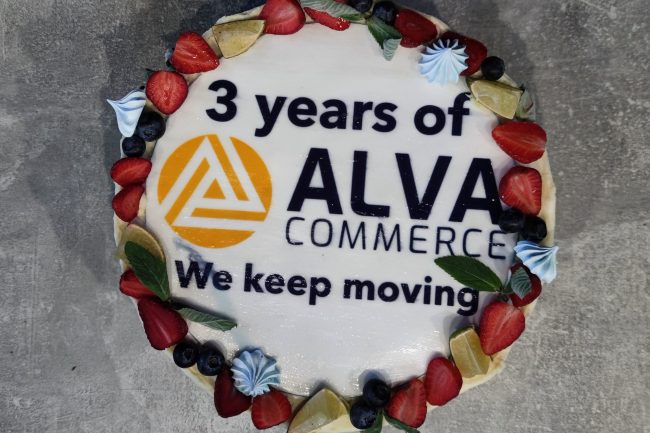 Whee! Our friendly Alva Commerce team celebrated its 3rd-anniversary last week! 🙂
3 years since we've started. Not too much but enough to share something we're proud of.
During this time we've managed to:
– make a Team of smart, creative and dedicated professionals;
– work on complex and inspiring projects;
– become a Bronze Solution Partner of Adobe;
– move to a super office in the city center;
– get recognition as one of the best development companies in Ukraine according to Clutch;
– build ambitious plans and move in these directions.
On this occasion, everyone was eager to have a party! And we made it 🙂
That day we've got a bunch of bruises while playing paintball, we've learned how to assemble a keyboard without mistakes, we've sung the "She" song in the opera-metal style, we've also cut our cake into 14 math-pieces and, by the way, we've held a volleyball tournament with a soccer ball. And also we've: danced, played various musical instruments, cooked meat on a barbecue, received gifts, even learned how to understand each other with a single letter. We just had a great time!
Our birthday party was not just about gathering outside the office and taking a break from work. This was an important event for the Team. We wanted each of our colleague to share a sense of togetherness along with being influencial and unique for the company.
Vadim, Petya, 4 Sashas, Alla, Serge, 2 Mishas, Pasha, Olya, 2 Andrews, Max, Yulya – we appreciate you and are grateful for the huge personal contribution of everyone to the common cause!
Incredibly cool people, real friends, talents – this is the main baggage we carry out of our three years.
'Cause, yes, the main thing for Alva Commerce is people. And we want to go further with you. We want to do important things together!
So this is just the beginning.
We are ready to make a difference.
We keep moving.
Follow us 😉